Hydrogen Economy
By Michael Cary
Placido Isaac of St. Philip's College explains the use of fuel cells to generate electricity. St. Philip's hosted the recent conference on fuel cell technology, which brought together business, government, and academic entities to discuss the future of the hydrogen-based alternative energy technology. (Photo by Mark Greenberg)


St. Philip's College promotes fuel cell literacy

Government subsidies for the fossil fuel industry are a major contributor to a wasteful energy mentality in the United States.

That was the message of Cornell University Professor David Pimentel, the keynote speaker at a fuel cells literacy conference sponsored by St. Philip's College.

"Eliminate all those damn subsidies. It's stupid to have low oil and gas prices that encourage us to use more oil and gas, and have to import more to keep the system going," Pimentel said during a panel session at the Convention Center.

One alternative to gas, oil, and coal is fuel cells, which use hydrogen, or a hydrogen-rich fuel, and oxygen to create electricity through an electrochemical process. According to "Fuel Cell Basics: Everything You Want to Know About Fuel Cells But Were Afraid to Ask," a single fuel cell consists of an electrolyte sandwiched between two electrodes. Oxygen is separated from hydrogen, and the only emission is water - not a pollutant such as carbon monoxide. The biggest challenge to developing this alternative energy is storing and transporting it.

Pimentel pointed out that subsidies for the oil and gas industry amount to $40 billion annually, which breaks down to $423 in taxes for a family of three. "There is a nasty cycle going on and it's absolute stupidity," he said.

If U.S. consumers of gasoline had to pay $10 per gallon, the market for alternative energy sources such as wind, solar, and hydrogen-powered fuel cells would increase dramatically - a critical development, since some scientists predict fossil fuels will be depleted by 2050 at the current rate of consumption.

St. Philip's College encouraged academics, government officials, and business leaders to consider the development and uses of fuel cell technology. According to a welcome letter penned by Lanier Byrd, St. Philip's vice president of academic affairs, the conference aimed to explore "the potential impact of a renewable energy source such as fuel cells is crucial ... For us at St. Philip's College, this includes anticipating new challenges such as the development of new curricula and training programs that will eventually help to serve both the technicians who maintain these and other renewable energy systems of the future and the consumers who will use them."

Doug Larson, owner of The Fuel Cell Store (www.fuelcellstore.com), who also teaches sustainable energy development at the University of Colorado in Boulder, sells more than 500 fuel cell products from about 70 manufacturers worldwide. He believes a market demand and a technology push are needed to accelerate the solar/hydrogen economy.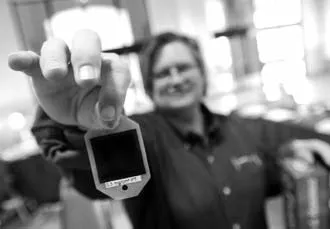 Kay Larson of the Fuel Cell Store shows a membrane from the inner core of a fuel cell. Consisting of DuPont Nafion layered with carbon and infused with platinum as its conductor, the membrane is the heart of a fuel cell. (Photo by Mark Greenberg)


Larson cited Texas as one state that is more advanced in alternative energy. While St. Philip's College features coursework in fuel cell technology - a nationwide campaign is needed. "If we don't do education soon, we will not be able to catch up with countries such as Japan or Germany," said Larson. "We're trying to identify every academic program that exists."

Larson hired a marketing company to survey American universities about their fuel cell research, and found that most have only fledgling programs. Meanwhile, "Most universities in Germany have a full-blown fuel cell program," he explained.

Larson said that he believes no one in the U.S will volunteer for the pain of changing technology. Texans, for instance, buy fleets of SUVs, Humvees, and pickup trucks, none of which is fuel-saving transportation. "That's the pessimistic side. The optimistic side is we will not get to volunteer with the end of the petroleum era."

Jobs could serve as another economic engine to power fuel cell development. "If you get into the fuel cell industry now, it feels exactly like teaching computer science in the mid-1970s," said Larson. "Energy companies are preparing for fuel cell technology. They understand best the end of the (petroleum) era, and have no intention of getting out of the energy industry." • ` By Michael Cary `




Support Local Journalism.
Join the San Antonio Current Press Club

Local journalism is information. Information is power. And we believe everyone deserves access to accurate independent coverage of their community and state. Our readers helped us continue this coverage in 2020, and we are so grateful for the support.

Help us keep this coverage going in 2021. Whether it's a one-time acknowledgement of this article or an ongoing membership pledge, your support goes to local-based reporting from our small but mighty team.

Join the San Antonio Press Club for as little as $5 a month.
Euclid Media Group, LLC
Read Our Sister Publications
Marketing Services