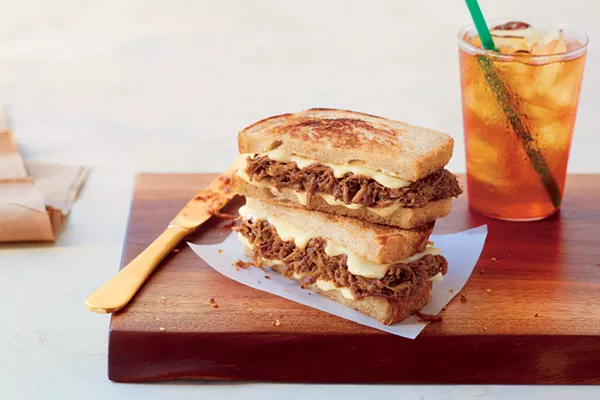 Courtesy
Starbucks' new BBQ Beef Brisket on Sourdough.
Starbucks, I'm not going to purchase a brisket sandwich from you. I'm just not.
I'm on board with many of your other offerings. Cheap drip coffee? Count me in. Stale-ish breakfast pastries? Yup. Breakfast sandwiches that are always way too hot and leave a weird film in your mouth? Sure, whatever.
But I now know where I draw the line: it is at the "BBQ Beef Brisket on Sourdough," coming soon to a Starbucks near you.
Ellie Halevy, vice president of food for Starbucks, said that the sandwich was "inspired by our product development team's West Coast roots."
"This sandwich was crafted with high-quality ingredients including iconic San Francisco-Style Sourdough, roasted onions braised in Gordon Biersch Blonde Bock Beer and Sonoma Jack cheese, both from Northern California," Halevy said in a
news release
.
I'm not going to use this space to bash the people of California. What they do with their brisket is their own damn business. But as a Texan and as a human with a mouth, I just can't bring myself to consume Starbucks brisket.
The whole scene seems wrong. Brisket ought to be eaten off a sheet of wax paper or a paper plate. You should be able to pair it with sides that easily ladled and soft enough for consumption by the elderly. I do not want to listen to Ingrid Michaelson or The Head and the Heart while I eat brisket. If possible, I would like a dude like this to serve it to me:
I appreciate the fact that you're trying, Starbucks. It's admirable. But for me, this is a situation where you should just stay in your lane. Stick to what you do best: serving cheap coffee fast, offering reasonably fast free Wi-Fi, and being everywhere.