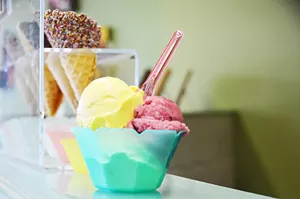 Brindle's Awesome Ice Creams
11255 Huebner Rd., Suite 210
(210) 641-5222
Two words: "cake batter." No shop has come closer than Brindle's Awesome Ice Creams to replicating that lick-the-batter-off-the-spoon experience, which is why this dessert mash-up is one of its signature ice creams. Located in The Strand Shopping Center in Huebner Oaks, Brindle's features dozens of classic and imaginative ice cream and gelato flavors, all made in-house. Their limited edition ice creams — which in the past have included bacon walnut, cookie butter and savory creations such as garlic, honey and currant — are always worth a try. But everyday offerings such as Azteca — their chocolate cinnamon combo — make repeat visits a necessity. If you really want ice cream, order the Muddy Feet, a decadent cookie sundae that's perfect for date night with your sweetie or those evenings you just want to be left alone to eat your feelings. The ice cream flavor of your choice is scooped onto a warm chocolate chip cookie and piled high with almonds, whipped cream, hot fudge and caramel. If cookies are not your thing, there's also the Turtle Crumble which switches out the Muddy Feet's cookie for a warm, chocolaty brownie. And remember, you can order pints and quarts of your favorite flavor to enjoy at home.
HONORABLE MENTIONS:
SA Pops
3420 N. St. Mary's St.
(210) 736-2526
Justin's Ice Cream Company
245 E. Commerce St.
(210) 222-2707