We've been looking all over the Internet for our big Holiday Gift Guide. But, before we waste the 5-seconds of reader attention these blog posts actually get, we have 'just one' gift giving idea we'd like to share. ???????????.  It's Japanese for the world renowned
Studio Ghibli
,
a
n anime film studio
founded by
Hayao Miyazaki
and
Isao Takahata. W
e <3 Studio Ghibili. DeAnne even has her undying love for
Totoro
, the studio's logo, displayed in a tattoo on her forearm.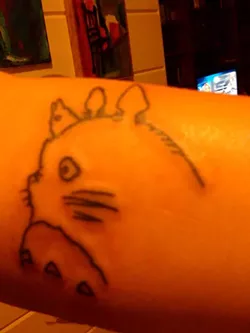 Hayao Miyazaki's films mostly appeal to children, but the beautiful animations, complex story lines, and cultural nuances intrigue both young and old. There's even a museum dedicated to his films and the Ghibli Studio in Mitaka, Japan. If we could give just one gift it would be the
Studio Ghibli Hayao Miyazaki Collection
containing 32 DVDs of animated films and music. The average retail price we were able to find was around
$70.00
, plus shipping. It's not an easy to find gift and you will most likely have to import the collection directly to the U.S. from Japan.
Is it worth it?  You tell us.  We dare you to watch
Spirited Away
without shedding a tear (or calling your parents afterwards to apologize for your bratty attitude as kid).
We welcome any and all questions, and feedback. We can be reached directly at techtease@sacurrent.com. You can follow Tech Tease on Twitter at @thetechtease.