Image by Sarah Flood-Baumann
In 2016, Southtown quietly turned into a pizza-filled neighborhood. With the opening of Il Forno in the spring, Francis Bogside/Brigid adding Rebel Pizza pies to the menu and Southtown Pizzeria's opening in September, diners won't go hungry for 'za anytime soon.
Though a fire temporarily shut down Francis Bogside's kitchen for the foreseeable future, fans of chef Halston Connella's funky pies won't have to go without for long. On Wednesday, November 16, Connella will go head to head with Il Forno's Jason Garcia at the Nogalitos restaurant for bragging rights as the public votes for which pie reigns supreme.

Both have amassed followings. Connella served his Rebel Pizza across town, while Garcia's pies are drawing eaters to an oft-overlooked corner of Nogalitos, South Flores and Cevallos. One's known for wild combinations, while the other delivers traditional, pies with stunningly delicious simplicity.

The chefs will feature three pies each, priced at two for $25 so you'll get a chance to sample a little of both. Diners will be able to cast their ballot for either chef (and if you try voting for a third party, we're all going to roll our eyes at you), or you can choose to not vote and just enjoy awesome pizza.

This pizza fisticuffs begins at 6 p.m. Wednesday, November 16 at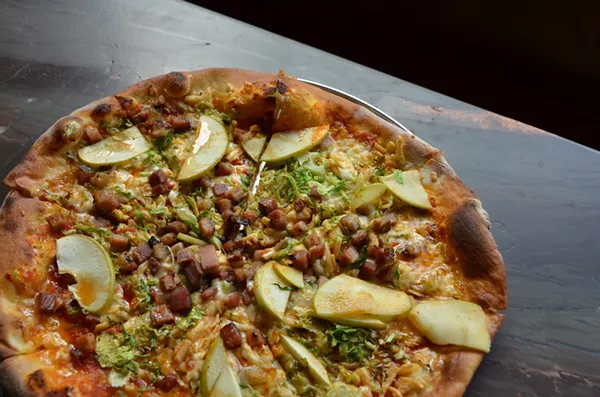 Jessica Elizarraras
Connella's HIpster Pig
Halston "Haus" Connella
Age:
30
Weight:
160
Years Cooking:
12 (Il Sogno, Citrus at Hotel Valencia, Game Creek in Colorado, Brigid, Francis Bogside)
Pizza Mentors:
Luca Della Casa
"He was one of the first people who taught me the art of pizza-making, how to make the sauce, the perfect amount of toppings."
Strengths:
Creative toppings and combinations, such as the Bogside favorite Hipster Pig with sliced green apples, Sriracha-honey sauce, house bacon, smoked gouda and shaved Brussels sprouts
Weaknesses:
"None."
Pizza Philosophy:
"Know the basics, but don't make what everyone else is making."
Jason "El Classico" Garcia
Age:
40
Weight:
165
Years Cooking:
15 (Biga on the Banks, Bohanan's Prime Steaks and Seafood, Le Reve, Ciao Lavanderia, Godai Bistro, Dough Pizzeria Napoletana, Ocho, Gwendolyn, Aroma Italian Kitchen in Austin)
Pizza Mentors:
Doug Horn
"He shared his knowledge and love for Italian food and wines."
Strengths:
Creativity, resourcefulness, works well under pressure
Weaknesses:
Knowing when to stop putting shit on the plate.
Pizza Philosophy:
"Don't take yourself too seriously."