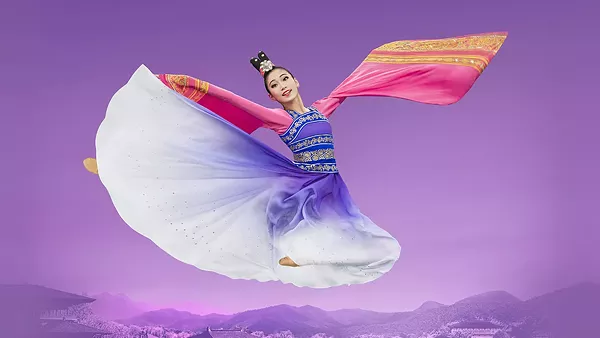 Courtesy of Shen Yun Performing Arts
Dichotomies and conflicts abound in the contested world of Shen Yun, a New York-based outfit with a mission "to use performing arts to revive the essence of Chinese culture — traditionally considered a divinely inspired civilization." For starters, the organization, which comprises five separate companies of roughly 40 dancers, each accompanied by live orchestras fusing Eastern and Western sounds, aims to preserve ancient Chinese traditions while performing in front of digitized scenery that's been likened to everything from video-game graphics to IMAX movies.
Far more important is the fact that Shen Yun is essentially the cultural arm of Falun Gong (aka Falun Dafa), a movement that arose from China's "qigong boom" of the 1990s only to morph from a movement/breathing-based concept into a spiritual practice that's ferociously condemned (and officially banned) by the Chinese Communist Party (CCP) as a dangerous cult. Add to this equation that enigmatic, U.S.-based Falun Gong founder Li Hongzhi has spoken publicly about alien invasions and his followers' levitation abilities and it's not surprising that folks often draw comparisons to the absurdities of scientology. Unwittingly, the CCP's ongoing war with Falun Gong and Shen Yun — which runs the gamut from imprisonment and torture to global interference and the cancellation of performances — has inspired sympathy from Westerners and sparked Shen Yun to assume a more political stance.
As a result, Shen Yun now addresses the persecution of Falun Gong followers in routines based on human-rights abuses and the criminalization of meditation. Further muddying the waters, Li has taken measures to separate the cash cow that is Shen Yun from Falun Gong — at its core a conservative entity that's opposed to homosexuality and premarital sex.
Unsurprisingly, the majority of these details go largely unnoticed at Shen Yun's frequently sold-out shows, where exhaustively trained dancers and acrobats move in pitch-perfect unison, gliding (levitating?) effortlessly through the air in elegant costumes adorned with yards of billowing fabric.
$83.50-$183.50, 7:30pm Fri Dec. 28, 2pm & 7pm Sat Dec. 29, 1pm Sun Dec. 30, Tobin Center for the Performing Arts, 100 Auditorium Circle, (210) 223-8624, tobincenter.org.
Get our top picks for the best events in San Antonio every Thursday morning. Sign up for our Events Newsletter.