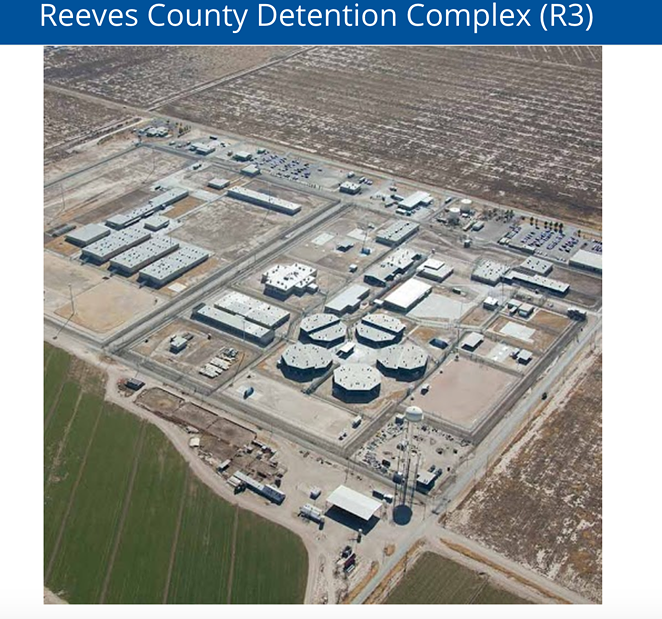 Reeves County Detention Center
Jesus Manuel Galindo was supposed to serve 30 months at the Reeves County Detention Center after border guards caught him swimming across the Rio Grande to visit family in New Mexico. When he got to the sprawling West Texas prison complex, Galindo told the private prison guards who ran the place he had a history of epileptic seizures. When he complained he wasn't getting the right anti-seizure meds, Galindo somehow wound up in solitary confinement. In letters to his mother, Galindo wrote that he was already having seizures in isolation and had begged guards not to leave him alone in his cell in case it happened again.
Which it did, in December 2008, when Galindo suffered a grand mal seizure while alone in his cell at night. His body was already cold and showed signs of rigor mortis when guards found him the next morning. Inmates began setting fires to mattresses when they saw guards carting Galindo's lifeless body out of his cell. The death ultimately sparked a
full-blown riot
as inmates took prison staff hostage, set fires across the complex and caused more than $1 million in damage (the
Texas Observer
dubbed it "
The Pecos Insurrection
"). A lawsuit the ACLU later filed against the facility on behalf of Galindo's family listed Physicians Network Associates (PNA) as a defendant, alleging the for-profit company under contract for health care services at the detention center had denied inmates like Galindo even the most basic medical necessities.
In an indictment unsealed this week, federal prosecutors accuse State Sen. Carlos Uresti of pocketing thousands of dollars over the past decade in a bribery scheme to ensure PNA and its "successor companies" kept that contract.
Uresti's alleged involvement in the Reeves County contract is one of two criminal cases against the longtime Democratic lawmaker that the feds unveiled this week. Another indictment accuses Uresti of profiting off what prosecutors call "
an investment Ponzi scheme
" involving FourWinds, a now-defunct company that tried to bank off the South Texas oil boom by selling frac sand to oil and gas drillers. An indictment in that case was pretty much expected after
the FBI and IRS raided Uresti's downtown law offices
earlier this year (the
Express-News
detailed Uresti's involvement in the FourWinds debacle
in an exhaustive story last year
).
The second case links Uresti to a private prison in West Texas that civil rights activists say has a
track record of serious problems
, including allegations of shoddy medical care.
Uresti was charged with conspiracy to commit bribery and money laundering alongside Vernon C. Farthing III, president of Physicians Network Alliance,
a company Farthing's father started in 1991
after working as a contract doctor in Lubbock's county jail. According to the indictment, PNA submitted a proposal with Reeves County to run medical services at the detention center in 2005, around the time the county entered into talks with the federal Bureau of Prisons to house non-citizen inmates. The plan was to make Reeves into a so-called "
Criminal Alien Requirement
" prison — the name for privately-run detention centers that contract with the feds to house low-risk immigrant inmates, most of whom, like Galindo, were simply caught crossing the border after having already been deported.
After Reeves County secured the BOP contract in 2006, it was then up to county leaders to subcontract out the actual management of the prison to for-profit companies.
That, according to federal prosecutors, is when Uresti got involved. The indictment unsealed this week claims that then Reeves County Judge Jimmy Galindo (no relation to Jesus Manuel) agreed to push the contract through commissioners court in exchange for kickbacks and the "promises of future payments" from the company. The feds allege that PNA hired Uresti, then a decade-long member of the Texas House who was running for his first state Senate term, as a "consultant" for "marketing services." The feds claim that in reality, Uresti became the middleman for bribe money flowing to Galindo.
While PNA went through several iterations over the life of that contract (it was swallowed by something called Correctional Healthcare Companies in 2010 before that company merged with another called Correct Care Solutions, LLC in 2014), the feds allege that the company and its "successor companies" paid Uresti some $10,000
every month
from September 2006 until September 2016. The indictment claims Uresti pocketed about half of that money and gave the rest to Galindo, who left office shortly after the PNA contract was set in motion (we couldn't reach Galindo for comment on Wednesday).
When reached by phone, Farthing's attorney, Cynthia Orr, flatly denied that he was involved in any bribery or money laundering scheme in order to secure or maintain PNA's contract at Reeves. She also told us that Farthing hasn't been an owner in the company since it merged with another one in 2010. She did, however, acknowledge that Farthing remains an employee of the company's latest iteration, Correct Care Solutions, which sent us a prepared statement Wednesday afternoon declining comment and saying the company has "cooperated in full with the DOJ's investigation and has given this matter its full attention."
Following his
initial federal court appearance on Tuesday
, Uresti told reporters he's innocent of all charges against him. "I look forward to my day in court when all the facts come out and the truth and not just what's been in the press," he said, before heading back to the state capitol to finish out the remainder of the legislative session.
Meanwhile, civil rights attorneys who closely monitor for-profit prisons are troubled that an investigation into one detention center's contracts ended in bribery and money laundering charges against a sitting state senator. Carl Takei, a staff attorney with the ACLU's National Prison Project, summed it up this way: "If the allegations in the indictment are correct, then people getting rich off this contract led directly to human suffering inside that prison."