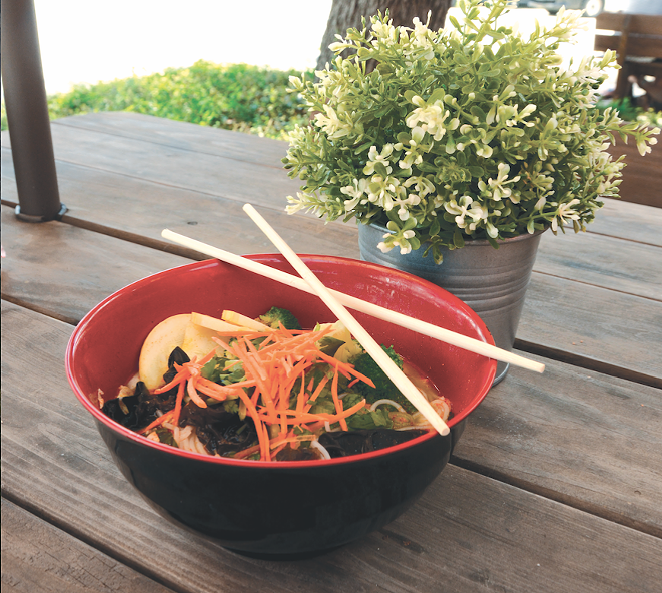 Photo by Sarah Flood-Baumann
When Ming's Noodle Bar opened in mid-December, the small shop was taking a gamble on whether diners would latch on to this market staple. The Yard on McCullough has seen plenty of businesses come and go, and the longstanding Thirsty Camel doesn't really scream foodie haven. But six months later, as we sat slurping spicy coconut noodles in 97-degree temperatures, it's evident Ming's Noodle Bar has cemented owner Ming Qian's grasp on our city.
Qian first opened her booth at the Quarry Farmers and Ranchers Market in 2012 with now-signature Sloopy pulled pork steamed buns and a line of bottled sauces. She and husband Hinnerk von Bargen, an instructor at the Culinary Institute of America-San Antonio, eventually tackled catering and opened Ming's Thing's commercial kitchen a few boxcars over at The Yard then began offering a small lunch menu of, you guessed it, noodles for a portion of the week. Weekends were left for service at the Pearl Farmers Market.
When Qian and co. finally launched Ming's Noodle Bar in December, some of the menu items were already familiar (the bao, or fluffy steamed buns, were making the jump from boxcar to neighboring box car), but San Antonio was ready for something more.
The space seats 20 or so diners, but you'll usually find folks sitting outdoors if the weather allows it (read: as long as there's no rain, chances are you'll want to sit outside). The tight squeeze might be too much for Texans to handle, unfortunately. Beware: Summer in Texas means flies, and they are also fans of Ming's.
Written on the chalkboard walls is Ming's Noodle Bar's expanded menu. Some of the early menu items are long gone (the Song Hua egg or century egg with ginger and Ming's Thing soy sauce is the most unfortunate loss), but you'll find dry noodles, soups and the buns. Most of the soups are vegetarian with proteins available as add-ons (get the pork belly, house-made sausages and Sloopy, obviously).
It's hard to pass on the Ma La noodles, with sweet potato noodles and a Sichuan-style broth that grows spicier as you slurp. The kitchen achieves the layered broth with a house-made paste. Though Qian and von Bargen hold the recipe close, they shared that the paste includes chiles similar to arbol, Sichuan peppers, star anise, coriander, chile bean paste and whole, skin-on peanuts that are slow-roasted before going into the mix. The end result is fragrant, and finding the elusive peanuts adds texture to the bowl that also features blanche broccoli, cilantro, scallions, shredded carrots, and meaty wood ear mushrooms.
The spicy coconut, equally fragrant and just as sinus-clearing, features Thai chilies with a similar combination of veggies. The bowls are as bountiful as the flavors. The Lucky Dragon with chilled mung bean noodles and market vegetables (we spied thinly sliced yellow squash in a recent bowl) and house ginger dressing are a welcome oasis if you're hoping to cool off while slurping your dinner. And the Spicy Sichuan noodle bowl with chilled egg noodles, a sesame dressing and chili oil, adds plenty of spice without the added heat from the broth. Bring a tissue.
Though Qian and her staff have always wowed without a large kitchen, the slightly roomier digs are allowing the team to tackle more regions and flavors. The growing list of buns is a telltale sign and the creativity and freshness displayed on the German slaw and Mung Bean noodle bun (which play to Qian and von Bargen's heritage) will keep us coming back for more.
Ming's Noodle Bar
5249 McCullough Ave., (210) 570-6318, mingsnoodlebar.com