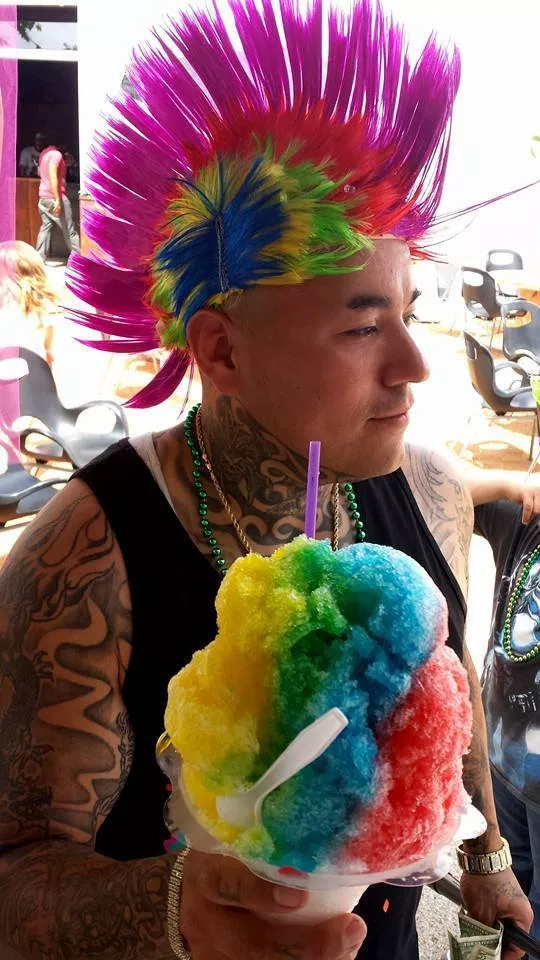 That's a big-ass snow cone. (Courtesy)
Here's another opportunity to cool off this summer–The Institute of Chili is launching a raspa-only offshoot this summer. The truck will double as Chamoy City Limits, which Ana Fernandez, owner, has been slowly rolling out this spring, most recently at Fiesta's King William Fair.
The truck uses a high-capacity shaved ice machine which turns 300-pound blocks of ice into fluffy snow that Fernandez and co. douse in traditional snow cone flavors and Tex-Mex favorites such as mangonadas and piccadilly's. These spicy creations are made using house-made chamoy, chili pepper syrups and pickled fruits.
To turn up the kitsch factor, Fernandez will use vintage ice cream truck music while rolling through neighborhoods and area parks, and customers can follow her along on Twitter (@HouseofChamoy) for updates on stops. The Institute operates from various locations in San Antonio including The Point Park & Eats in Leon Springs, Tacoland at 103 Grayson, The Block SA near UTSA and The Golden Gloves Social House at the Pearl Complex.