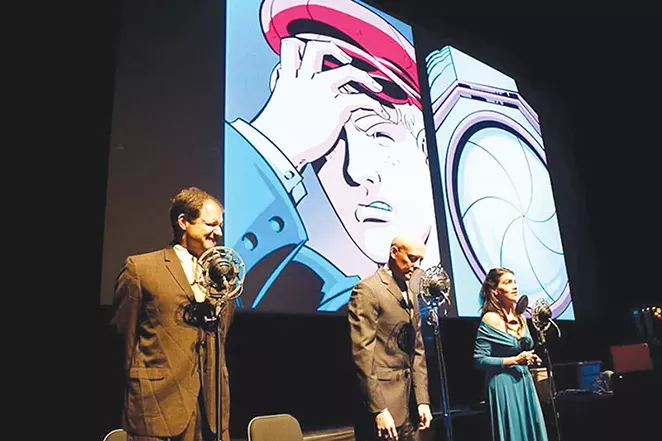 Courtesy
Intergalactic Nemesis is a full-sensory experience.
For all the hipster-baiting backlash vinyl records or 70mm film may draw, it's hard to deny how fundamentally cool reviving an old format can be. There's something tactile and direct about playing a '70s pinball machine, parsing through the frayed notes of a worn-out country record or watching a silent movie with a live band soundtrack. When produced right, these experiences aren't exercises in misplaced nostalgia, but a means of connecting you to the source material in ways that apps just can't duplicate.
One of the most deserving recent cases to receive the retro-revival treatment has been the radio serial, a form that was rudely ushered out of commission following the rise of television in the early '50s. For all the rich history of radio serials — from the action adventure of Buck Rogers to the sci-fi realism of Orson Welles' War of the Worlds — the form just couldn't compete with the tube. After all, why sit around the radio and imagine a scene through clever sound effects when you could, like, actually see the scene on TV?
As it turns out, all sorts of reasons. Podcasts like Welcome to Night Vale, The Memory Palace and even NPR-backed fare such as A Prairie Home Companion and Radiolab have dusted off the serial format, revealing how a killer story, some well-timed sound effects and the human imagination can mix to form an experience more engaging than any TV episode.
Intergalactic Nemesis, the radio drama created by Austin-based writer Jason Neulander, takes the radio serial revival a few steps beyond. Utilizing live performers, original comic art and a sci-fi themed story channeled directly from the 1930s airwaves, Nemesis pulls back the curtain to reveal the inner workings of the serial, from the incredible versatility of its voice actors to the carefully crafted script from which the show builds its drama. Perhaps the biggest draw to Nemesis might be the sight of the live Foley artist, furiously working around a table loaded with the woodblocks, bubble wrap and shakers necessary to make the gunshots, footsteps and other sound effects that color the story.
For those used to taking their stories in front of a screen (TV, computer, theater or otherwise) Intergalactic Nemesis' setup may take some adjustment. But as a wholly distinct means of experiencing a story, this revival is about as real as they come.
Intergalactic Nemesis
$29.50, 4 & 8pm Sat, Dec. 12, Carlos Alvarez Studio, Theater at The Tobin Center, 100 Auditorium Cir., (210) 223-8624, tobincenter.org