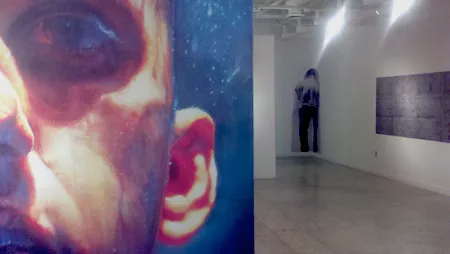 SA has a strong muralista tradition on the Westside, and some pretty decent--if traditional--graffiti writing, too. But  where's the  wheatpaste art hanging in this town? If you don't know WTF  "wheatpaste" is, check out "By Permit Only" tonight at the Guadalupe. Playing off of  "permission walls," the name given property-owner approved graffiti works, the show brings eleven artists into the Guadalupe Gallery to show off street postering skills. More works--including a ginormous print of a KO'd boxer by Vincent Valdez--are on the outside of the Guadalupe complex. BTW--wheatpaste is the type of glue that stuck posters to walls back in the day, and it still works. Just add flour and water, stir and apply.
Artists participating include  Gabriel Bernal, Joshua Bienko, Rodolfo Choperena, Alex Comminos, Devon Dikeou, Beto Gonzales, Ricardo Paniagua, Ethel Shipton, Vincent Valdez, Michael Velliquette and Anne Wallace.
"By Permit Only " opens Friday, July 15, at 6-9 p.m. at the Guadalupe Gallery, 723 S. Brazos St. The exhibition is a joint project with the Guadalupe Cultural Art Center and  Artpace, and is on view to November 19.
For more information, call (210) 271-3151 or visit guadalupeculturalarts.org.
--
And check this video investigation by Cindy Chaffin!