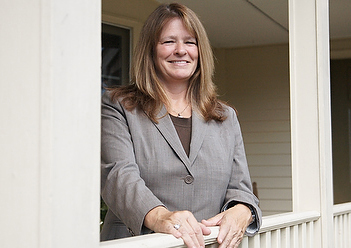 There is no denying the devotion Betty Anne Waters had for her brother Kenny. When Kenny was wrongfully convicted of murder in 1983 and sentenced to life in prison, Betty Anne went on an 18-year mission, which would ultimately end with her earning a law degree and helping exonerate her brother in 2001 when DNA evidence proved his innocence. In the film
Conviction
, Betty Anne is portrayed by two-time Academy Award-winning actress Hilary Swank (
Million Dollar Baby
). The film follows Betty Anne as she fights for her brother's freedom by going back to school and working with the Innocence Project, an organization dedicated to proving the innocence of wrongfully convicted individuals through DNA testing. During an interview with me, Betty Anne talked about being on the set during filming and what she hopes will happen when more people hear her story.
Going into this project not knowing much about how Hollywood works, what were your main concerns?
Everything! I didn't know anything about Hollywood and had heard horror stories about how the film might not look and feel like the real-life story. I didn't know who to trust. I called [founder of the Innocence Project] Barry Scheck who I already trusted and he put me in touch with his friend Andrew Karsch who is a producer. Once I met him I knew we were in good hands and felt very comfortable.
Why did you decide to be such an integral part in the making of this film?
I think it was because I trusted the people who I was working with. The producers, writers, all the actors, I loved them all. I wanted this story to be told because I think it's an important story for people to know. Not all people in prison are guilty. There have been 259 people that have been exonerated through DNA evidence. People should open their eyes and look at that. They should understand what the Innocence Project is all about.
Were you OK with all of the creative freedom the filmmakers took with the story? Is there something specific that you would have liked to have seen that didn't make it into the film?
Well, it's not a documentary, so things are out of sequence. There are nine children in my family and [the film] makes it seem like it's just me and Kenny. When I see the opening of the film and it's me as a kid jumping out of my grandfather's truck, I wish it was all of us because we all did things like that.
It took 18 years to get Kenny out of prison. Why were you so sure of his innocence that entire time?
Kenny was my brother and my best friend. He was one year older than me. I knew Kenny had a hard time when someone would put him in a situation. He would never back down. If someone was going to fight with him, he was going to fight back. But I knew he was not the aggressor. He wasn't going to break into someone's home and kill them for their money. I knew he would never do such a thing.
You were on the set for a lot of the filming. What was it like reliving some of these moments of your life?
It brought back a lot of memories at different times. Talking to [director] Tony Goldwyn, [screenwriter] Pamela [Gray] and Hilary [Swank] was like therapy to me. You have to talk about so many things you've never talked about before. Watching them on set was really strange because I'm not a Hollywood person so I wasn't used to sitting in a chair and watching them through a camera all day. It still was an amazing experience.
Do you feel Sam Rockwell captured your brother well?
I had only seen him in
The Green Mile
, so I was like, "Oh, boy, he's gonna play my brother?" I didn't have a clue about how that was going to work out. But when I saw him I was blown away by him because he did such a fabulous job as my brother. He got every side of Kenny right.
And Hilary Swank? She definitely got your accent down. What did you two talk about on set?
Hilary put a lot into this. She sent her dialect coach to my house and he taped me for two hours. So, two months before I even met Hilary she was listening to my voice. By the time I met her she already sounded like me. I remember she came to my house and it was so funny because she had on the same exact outfit I did. Right away we hugged. It was like we already knew each other. We spent all day together talking. On the set, there is this scene where Hilary and Sam are walking out of an elevator and Hilary is crying. I was watching this and she came over to me balling her eyes out. She told me, "I always try to find the silver lining in everything. I've been trying to find one here with what happened to Kenny, but I can't find it." I had to actually console her and tell her, "Look, Kenny was free and everyone knew he was innocent. That is the most important thing."
Although it is not shown in the film, your story ends on a very sad note. Kenny died only six months after he was released from prison. Because Kenny had already passed before filming, did you feel like you were still looking out for his best interest?
I did. Even now I take his picture with me wherever I go because I feel like he is with me. I feel like he would be so happy right now with this movie. If it helps the Innocence Project I will be honored. If one more innocent person goes free because of this movie I will die a happy woman.