Actor and U.S. Army veteran J.R. Martínez says whenever he tries something new, his goal is to do everything he can to excel in it.
This positive mentality could be the key to his success as one of the contestants on this season's reality show Dancing with the Stars. Martínez, who starred in the daytime soap opera All My Children as Iraq War veteran Brot Monroe, was teamed up with dancing sensation Karina Smirnoff and has become a fan favorite after only three weeks.
Born in Shreveport, Louisiana, Martínez joined the U.S. Army straight out of high school in 2002. The following year, he was injured in Iraq when the Humvee he was driving hit a landmine. Martínez, who was 19 at the time, suffered severe burns to more than 40 percent of this body. He was transferred to Brooke Army Medical Center in San Antonio for treatment, where he stayed for three years.
After his recovery, Martínez became a motivational speaker and in 2008 heard about an opportunity to audition for a role in All My Children. The role was only supposed to be featured for three months, but lasted three years until the soap opera went off the air last month after more than 40 years.
During an exclusive interview with me before the season began, Martínez, 28, talked about his dancing abilities and his experience living in San Antonio.
Dancing with the Stars airs live Mondays and Tuesdays at 7 p.m. on ABC.
What made you want to be a part of this reality show?
My fans from All My Children kept saying I would be great on the show. I always entertained the idea, but I never pursued it. Finally, I asked a couple of producer friends of mine and they said it would be a great opportunity, so a call was made and a meeting was set up and in August I was told I was going to be part of the cast.
So, what kind of dancer were you before the show?
(Laughs) I have a little bit of rhythm. I'm not necessarily a dancer, but I can bust out a few moves from time to time. Now they're asking me to bust out moves for a good minute and a half, which I've never done before. I think I have a good base to work with. Now, it's about building on that base and creating something solid. So far, Karina feels good about where we are. I just have to continue to put in the work to get to the Finals. Hopefully I can get my feet to move the way they're supposed to move. Whether or not I win this trophy, just taking on this challenge is really cool for me.
We've seen in past seasons how dancing can take a physical toll on contestants. This must feel like a different kind of boot camp for you.
(Laughs) It does feel like that. I know as the season progresses it's going to get more difficult. It's like basic training. Basic training was three months for me and Dancing with the Stars is going to be three months. I just have to remember that it's going to end one day.
What led you to acting once you left the army?
I had been doing motivational speaking. I really enjoyed doing that. In 2008, I heard about an opportunity on All My Children. They were looking for a veteran with acting experience to come in and audition for a role on the show. My character was going to be a veteran coming home from Iraq. I went in for the audition and got the part. It was only supposed to be a three-month role. However, it grew into a three-year role. I was blessed and saw there was a calling for me. I said, "Why not?" It was just a matter of me putting my mind to it. I've grown into a little bit of an actor.
We hear so much about soldiers that are suffering from PTSD. Did you experience any of that and did having another career help motivate you to work towards new goals after leaving the military?
I wasn't in Iraq long enough to develop any symptoms and if I did what really helped me was the fact that I was talking about it. I spoke to people about my story. I wasn't keeping it in and it wasn't eating me up inside. I think that's what really helped me. I think that's the place where a lot of veterans need to get to. It can help them in so many ways.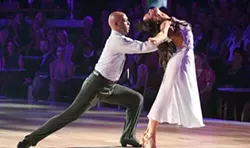 You spent three years here in San Antonio at BAMC. What was the experience like living and recovering at that medical center?
BAMC is the best facility in the world. The things they do there are unbelievable. Medicine is always improving. Hearing what they are doing for other guys now just blows my mind. These guys are getting state of the art treatment. Compared to them, I was getting old-school treatment eight years ago. (Laughs) It's amazing how that facility is growing and I enjoy learning about the things they are doing there. The medical team in Iraq came to my aid and took care of me the best they could to give me a chance to survive when I got back home. The rest was up to the amazing doctors and nurses at BAMC. (Laughs) I still don't understand why they put a burn hospital in the hottest place in America, but that's not for me to figure out.
You graduated from high school in 2002 and joined the military soon after. How much did 9/11 play a part in that decision?
It played a part. I'm not going to say it was the whole reason why I decided to join the military. I was an 18 year old kid. I thought it would be a great opportunity for me to grow up and learn about life and be independent. People can debate this now because we have a war going on, but I think there are a lot of good things you can get out of being in the military. You gain so many things in the military you can apply to your life. It's like anything in this world: there's good and bad to it. You just have to find and create the good.
Which of your fellow contestants do you think is going to give you the most competition? I think Ricki Lake could be tough since she starred in the original Hairspray.
(Laughs) Yeah, but she's really downplaying that whole Hairspray thing. She's saying she can't move that way anymore. I think that's her game plan. She's trying to make us think she doesn't have those moves anymore, so I'm not going to buy into that. I think Hope Solo and David Arquette could be great. I think Kristin Cavallari has some moves, too. Everyone is a competitor, so I have to think about everyone.