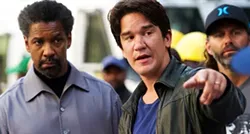 When filmmaker Daniel Espinosa's Swedish crime drama Easy Money opened in Sweden on Jan. 15, 2010, it had to go up against some major competition at the box office. A little record-breaking movie called Avatar had just debuted four weeks prior and won the box office for each of those weeks. There was no way a smaller movie like Easy Money was going knock the James Cameron-directed sci-fi adventure off its pedestal that early in the game.
During the fifth week, Avatar raked in $1.1 million. Easy Money topped it with $1.3 million.
"You only get to beat James Cameron once in a lifetime," Espinosa, 34, told me during an interview to talk about his first American film Safe House, which stars Denzel Washington and Ryan Reynolds. "It was a great feeling."
Along with beating Avatar, Easy Money hit peoples' radars when it screened at the Berlin Film Festival. There, American studios quickly noticed Espinosa had the talent it would take to be a successful Hollywood director. Based on his work on Easy Money, he was given the opportunity to direct Safe House, a crime thriller that follows a fugitive (Washington) and a CIA agent (Reynolds) on the run when their safe house is attacked in South Africa.
During our interview, Espinosa, who is half Swedish and half Chilean, talked about how it feels as a director to have seemingly unlimited amounts of money to make an American film and why he's not looking to move from his home country of Sweden to Hollywood anytime soon.
Safe House opened at theaters February 10.
Other than the fact you beat James Cameron at the box office, why do you think you – a filmmaker unknown to U.S. audiences – were given the opportunity to direct a major project like Safe House?
I think they were looking for a different voice. When you get a filmmaker that comes from another part of the world, sometimes we can create movies with different rhythms and different ways of looking at things. It was a pleasure to make this kind of movie, but it was equally terrifying.
What did you learn about Hollywood that you didn't know before?
In Europe, a director works with the idea that they don't have enough money. You have to find creative ways to compromise the solution. In America, you have enough money to get all the shots you need. You have all the money you want. It's almost like a dilemma. How can you be creative when everything is possible?
As the director, how much input did you have in casting for the film and what was going through your head when a name like Denzel Washington is mentioned as a possible star?
When I came on as director, there was no one attached to the movie. I read the script and talked to one of the producers and said, "I have good news and bad news. The good news is I know who I want to get for this movie. The bad news is, I'm going to ask you to get him knowing we probably can't get him." He asked me who and I said, "Denzel Washington." He just smiled and walked away. I had no idea what to think of that smile. One week later I was sitting with Denzel Washington having a conversation. (Laughs) It was very absurd.
Why Denzel?
He is such an esteemed actor. He's a person I've always looked up to and studied. Many times, I have sat with actors to discuss the work we'd be doing together. It was strange to sit with someone who is the real deal and have a discussion with him about acting and character.
Do you have any plans to move from Sweden to Hollywood to continue your career as a director?
I live in a great neighborhood in Sweden, so I want to do everything I can to stay. As a director, you don't have to move. We can read scripts from afar. If I read another great script from Hollywood, I will go back. If I read one that's from France or Germany, I will go there. For me it's about the story, not the circumstance.