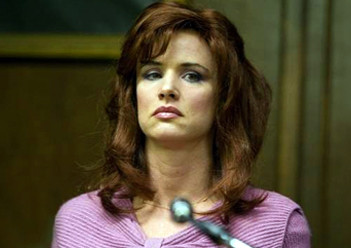 After taking a few years off from her film career to find an audience as a musician, actress Juliette Lewis is back in full force with four films in 2010. In
Conviction
, the true story of Betty Anne Waters (Hilary Swank) and her 18-year struggle to prove her brother Kenny (Sam Rockwell) was wrongfully convicted of murder, Lewis plays Roseanna Perry, a vengeful witness who lies during her testimony and ultimately helps send Kenny to prison.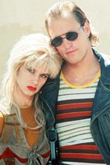 During an interview with me, Lewis, 37, who is best known for her Academy Award-nominated role in 1991's
Cape Fear
and in 1994's
Natural Born Killers
, discussed how
Conviction
is different than anything she's ever done in her career and what types of roles she will be searching out in the future.
After taking a few years off we can now see you in four movies this year including Conviction. Where did this second wind come from?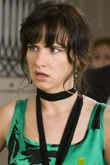 It's exactly what I wanted to do – have a new chapter in my 30s. By no means am I finished with my film work. This film is my reemergence into the world of drama. I'll also be in two comedies this year. Earlier this year it was
The Switch
and then
Due Date
is coming out in a couple of weeks. This movie came along and I got offered this smaller role and it gave me a chance to do something I've never done – to completely transform. There is nothing of me in this role. It's a completely different character and that's what excites me. I get to transform visually as well as internally and show how intense and vindictive [Roseanna Perry] is.
So, while you're on the road on tour with your band do you miss filming at all or are you totally focused on the music?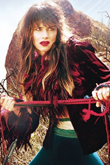 No, I mean I had done film for 15 years so when I started my band I was really focused on making records, evolving as a songwriter and a live performer. When I decide to do something in my art I'm in it for the long haul. Musically, my goal was to find my audience that's going to stick around and come to my shows. I found a little more than a handful of people all over the world that are in it with me. It's pretty amazing. I started in small clubs and I've played with everyone from the Killers to Muse to the Pretenders. But I'm an independent musician, which is a whole lot different than being with a major label. You can go and see my new video "
Terra Incognita
" on YouTube. It's pretty spectacular. I'm very proud of it. But, yeah, over the last year or so I've had this rekindled love affair with film. In
Conviction
I get to concentrate on one thing and that's helping my director tell my story. When it comes to music, I wear many hats – I write songs, I lead the band, I oversee t-shirt sales and merchandising. It's a lot of pressure so I'm really happy to just be playing a part.
For those people who are not familiar with your music career as much as your film career, is there a specific album we should start with?
I love the last album,
Terra Incognita
, because it's my most personal. You can really get a taste of the energy in the video. The record has a lot of blues. One of my favorite songs is "Hard Lovin' Woman" and "Fantasy Bar." There's mellow stuff and really hard rockin' stuff. Something older from my earlier band Juliette and the Licks: there's
Four
on the Floor
. That's a pretty action-packed rock record that Dave Grohl played drums on.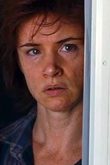 Hilary Swank had the benefit of working closely with Betty Anne Waters for Conviction, but you didn't get to meet or talk to the real Roseanna Perry. Would there have been anything specific you would've like to have asked her if you had met her?
You know, it's funny because the type of person I'm playing is a real damaged person. She's destructive. She's addicted to drugs and alcohol. I was playing my interpretation of these different conflicted sides of her. I'm in two scenes. In the first, she is younger and just vindictive and wrongly accuses Kenny, who is played by the brilliant Sam Rockwell. She helps put him away for a murder he didn't commit. Eighteen years later we meet her again and the level of emotion and contradictions in her were amazing. The homework I did with her was to work with a dialect coach for the accent and then visually I transformed to age my skin. I really wanted to look like a person who hasn't left their trailer for 10 years and drinks $3 wine from morning until night. I'm very physical, so I pay attention to people and things in my environment and my own life experiences on many levels. You sort of exaggerate things within yourself or you look at characters in their environment that you've come across and you use some of that behavior. It's a really exciting process – very complicated and challenging.
To get to the core of who she is do you also have to understand how she's been able to live with a lie that basically ruined someone's life?
Yeah, some people are built differently in their internal fabric of their souls. In that one scene where she expresses remorse, she does feel remorseful, but she's also manipulative and self serving. Once she tells a lie she has to keep lying to protect the lie. She doesn't have enough of a constitution within herself to say she's sorry. Plus, drugs and alcohol will damage someone's soul. I really wanted to play a person that we would try to avoid in our own lives. We know something is off about them, but they are also functioning and lucid at the same time. That was the challenge – to play her crazy internally, but bright enough to be manipulative. I have to tell you, 98 percent of what I say in the film is from actual interviews that this woman gave. The dialogue was really informative because it's from transcripts of this character. So, even though I didn't get a chance to meet the woman – I don't even know what she looks like – I got to hear her speak. It paid off because Betty Anne herself gave me the biggest compliment in saying that I lived up to who the person is and did a good job.
Now that you seem to be back at full strength in the film industry, do you have any type of agenda? Are you looking for specific roles?
I am ready to roll with the punches. I've been doing this for a long time so again and again you just enjoy the journey. Every experience I've had in the last year has been completely gratifying. I've worked with exceptional people from Jennifer Aniston to Mark Ruffalo and in this movie with Hilary Swank, Sam Rockwell, and Minnie Driver. I'm just having a great time. I guess the only agenda is to look for more juicy parts and more things that I feel like I haven't done before on screen.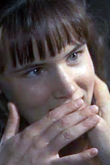 It's been 18 years since you were nominated for an Oscar in Cape Fear. Is that a goal you would like to attain again or do accolades like that not really matter at this point?
You know, I'm just grinning from ear to ear. I've never expected the attention I'm receiving for this role. I feel like Fox Searchlight is such a brilliant company. I'm actually really excited to promote this movie and talk to journalists because it's really rare that you can be a part of such a heroic true story. Oh, but accolades, that's never what I would strive for! You can't control that. I'm just happy people could see that I did some hard work on this and that they believe me in this role.
Are you going to continue to perform with you band and, if so, how are you going to balance both careers?
That's exactly what my next chapter is – find the balance and do them both and not neglecting either one. The last five years I've made three records and an EP. I've toured all around the world. I've played with some of my favorite bands. So, in December I'll probably start working on my next record.
Is there a musical influence that you might like to try to portray on the big screen? I think if The Runaways was made in the 80s instead of this year you would have been a leading contender to play Joan Jett.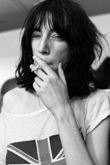 Oh, well thank you! The two women that have inspired me the most musically and would love to tell their story are Janis Joplin and Patti Smith. Patti Smith I've met and she's a remarkable person. She does not want her story told while she's alive. It's too much pressure for her. She said it would be too strange and I agree.