He might be playing the same iconic action role made famous by Arnold Schwarzenegger back in the early 80s, but actor Jason Momoa wants you to know his title character in the reboot of Conan the Barbarian was never meant to imitate the original.
"They hired an actor, not a puppet," Momoa, 32, told me during an exclusive interview about his new film, which opens at theaters Aug. 19. "I didn't want to do something that had already been done. I knew I could take [Conan] to the next level. I wanted to show the world I could do it."
During our interview, Momoa, who is best known for his break out role this year on HBO's Game of Thrones, talked about the pair of Conan movies starring Schwarzenegger, which he recently saw for the first time, and why he thinks his Conan is more than just an uncivilized barbarian.
Producer Fredrik Malmberg said in a recent interview that when he saw your audition tape for the role of Conan, he thought of you as a "natural barbarian." Did you take that as a compliment?
Wow, I'm not really sure I would take that as a compliment. Nah, I'm just kidding. I think, obviously, I have a very native-looking face. I have a huge, Neanderthal forehead. I'm very Hawaiian looking. Maybe that's what he meant. I guess you'd have to ask my wife (Lisa Bonet).
Well, she had to have seen something about you she liked since she's now your wife.
Yeah, well, maybe it was my artistic side. Who knows?
You revealed at Comic Con this year that you had never seen the original Conan movies with Arnold Schwarzenegger
I actually just saw them for the first time this week.
Oh, really?
Yeah, everyone was like, "You have to see it!" I was like, "OK, I'll watch it!"
What did you think?
They're movies that came out 30 years ago. I think it's amazing that Arnold did them. The first movie launched his career. [Director] John Milius was phenomenal. It was written by Oliver Stone! I mean, come on! It's a great piece. When I look at the original and compare it to the new one, it's really apples and oranges. It's like Sean Connery and Daniel Craig playing [James] Bond. It's the same character, but you can't compare them.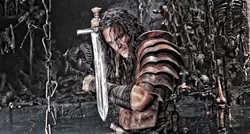 How did auditions work for this role? I mean, did you ever end up in a room filled with all these big, bulky guys reading lines?
I never got to see any of them. But I know a lot of them had blonde hair and blue eyes. In the end, I guess I had the look they wanted for the role. I know Kellen Lutz (The Twilight Saga) was up for it. My friend Jarred [Padalecki] who was on Supernatural was up for it. He looks totally different than me. When you go out for roles, it all comes down to the silliest things. They want this and that. They want blonde hair. You're too tall. You're too short. During the audition process, when I talked to [director] Marcus [Nispel], he liked the way I played the role. We were on the same page. He wanted something new, so they chose me.
Were you at all surprised they didn't go for an actor with a bigger following? I mean, you've been in the film and TV industry for more than a decade, but you're not a household name.
Yeah, you know, I had to go into Lionsgate and prove to a lot of people that I could do it. I've been acting for 12 or 13 years, but no one has really seen me. I've been successful, but I've been under the radar. Only my sci-fi fans would really know me from Stargate. Generally, no one really knew who I was. When I went to Lionsgate they were like, "Who is this kid and what has he done?" I had to prove myself. Hopefully, from now on, I'll be alright.
Did you use any of the original material like the comic books to get a better understanding of who Conan was?
I think my Conan stems more from the Frank Frazetta paintings. I was raised by two artists, so when I looked at those paintings I really understood who that character was. I wanted to take that character off the painting and bring it to life. Also, there are these beautiful stories from Robert E. Howard. I think one of the things we wanted was to respect the Robert E. Howard fans, the comic book fans, and the Frank Frazetta fans. Sure, there are Arnold fans, too, but I'm not him. I'm something different. It's a completely different movie. It's not a remake. We don't want to discredit or take anything away from Arnold. I think he will always be Conan, but now there's just another one. I mean, how many Batmans do we have now, right?
So, who is your favorite Batman?
Michael Keaton.
I'm with you on that one.
The question should be, "Who's your favorite Joker?" Now, that's the fucking question. If you were a fan of Jack Nicholson you probably thought, "There's no way Heath Ledger is going to do well." But Heath Ledger just fucking killed it, know what I mean? I'm sure if Heath had gotten the chance, they would've asked him if it was tough to step into Jack Nicholson's shoes. I mean, those were some big shoes to step into, but I think Heath did a better job.
Speaking of a superhero like Batman, who really doesn't have a superpower, Conan could be put into that same group since he relies on his brute strength more than anything. Is that something you thought about with this character?
You know, Conan is a barbarian, but a lot of times people think barbarians are stupid. That time period wasn't a time of civilized man. Conan is actually very smart and very witty. I think along with his strength, he is smart and cunning like an animal. He is nimble. He is a product of his environment. He's a pirate, a thief, and a king. He's an anti-hero. I like that about Conan. I'd follow him into battle any day.
Although this as a variation of a character from past films, did you still feel pressure to play this iconic role?
I think it was an honor. With this role, I just busted my ass, studied, and worked as hard as I could. I'm a huge fan of the original, so I want people to be proud of the movie. You can't please all the different types of fans, but you try your best. I am truly happy with the movie. When they said cut at the end of the day, I knew I had given 110 percent.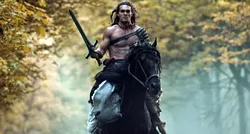 Talk about the physical challenges of the role. What were the most difficult parts to playing Conan?
I'm a very physical guy and am very athletic so that stuff was really fun and came natural. It's not like I'm this guy who has never done action before. I enjoy it. I think the most challenging part of it was riding the horses. I'm not great on a horse. It was always a challenge for me to try to control this animal. One of the big challenges overall was to make this story about something other than murder and revenge for the sake of murder and revenge. You want people to feel where Conan is coming from. It's an origin story. We really wanted to make the story come through so it wasn't just this bloodbath.
Was it hard to end the first season of Game of Thrones knowing you were not going to be back for the second season since you're character is killed off? Will you watch the second season?
Oh, I will absolutely watch. And who knows if I'm going to be back. There's still a possibility that Drogo can make an appearance. Making Game of Thrones was the greatest experience of my life. I'm going to show up and bother them and be a fan and a geek and totally love watching my friends out there working. Everyone is bummed that Drogo didn't get a chance to go to war, but who knows. Maybe he'll pop up. If he doesn't, you can always see Drogo go to war by watching Conan.