Oren Moverman - The Messenger
By Kiko Martinez
San Antonio Current contributing writer
Filmmaker Oren Moverman was never given a choice whether or not he wanted to join the Army in his home country of Israel back in the early 80s. Military service was mandatory at the age of 18.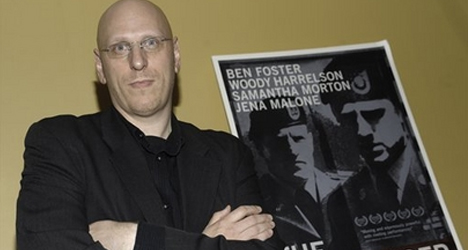 "We had to serve — three years for men and two years for women," Moverman, 43, told me during a phone interview. "It's just the way it's always been."
His own experience in the armed forces and how it differs from the way the U.S. military works was one of the reasons Moverman co-wrote The Messenger. The film tells the story of two soldiers (Ben Foster and Woody Harrelson) whose job it is to notify families when a loved one has been killed.
Moverman, who has co-written such films as the Bob Dylan biopic I'm Not There and the 1940s-set drama Married Life — said it was fascinating to think about the small fraction of the U.S. population who ends up in the military and is ultimately asked to carry such an immense responsibility for the entire country.
"It was striking to me how much they have to sacrifice and endure in our name," Moverman said. "Our intention was to shine a light on these people who have to live with the consequences of going to war. I was really drawn to these guys and wanted to tell their story in an intimate way."
The Messenger is currently playing at the Santikos Bijou @ Crossroads Theater. For showtimes click here.
While doing research for the film and talking to real-life Casualty Notification officers, was it difficult to get them to open up since much of the film shows just how impersonal they have to be on the job?
It was not difficult. The Army supported the film so they gave us access to soldiers. Those who did Casualty Notification actually wanted to talk about it. Obviously it was difficult and emotional, but there is something about today's soldiers and the way they communicate that really surprised me. They were really polite and professional about it. But they weren't afraid to be emotional about it and really describe how they felt. We had tough guys that had been through wars and been though a lot of difficult situations and they tell you about Casualty Notification and how they've walked out of a house and poured their eyes out crying. No one pretended like this was something easy to do.
So, every scene where we see Woody and Ben's characters notifying families, were those actual stories heard from soldiers?
Actually, no. The only one that was based on a true story was the last one in the grocery store when they sort of notify a couple by accident when they hear a name. Other than that, they all have elements of things that were told but none of them are specific to a certain family or person.
Was your research only with the soldiers who do this job or did you talk to some of the families who had lost loved ones in the war?
No, we stayed away from the families for various reasons. One was to respect their privacy. The movie was also not concentrating on the families but rather the people that were doing the notifications.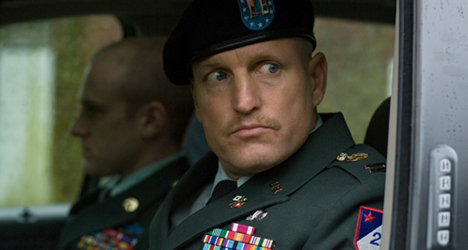 Do you feel like grief is a universal emotion? I mean, you have scenes where family members react in certain ways to the heartbreaking news, but you didn't hear those experiences first hand from them.
Exactly. I do think grief is a universal emotion. I don't think it's a stretch for any of us to imagine how we would react. I don't think anyone could ever anticipate it, but if you think of it from a creative point of view it's very easy to tap into the emotions and the moments. I think even if this movie does have a military backdrop, there really is a universal story about loss and how someone can get back to life after suffering that kind of pain.
What was the mood like between takes since this is such an emotional story? How are you able to leave it on set and not take any of that home with you?
You definitely take it with you. On the set people really got along. It was a very calm and quiet set. In between takes there was a lot of intensity because we kept it tense. You do a take and you do it again and it's very tough. People are going through very emotional situations. I would say there was a lot of crying and hugging on set, which is not a bad thing in life.
There wasn't really a human element to the wars in Iraq and Afghanistan until Barack Obama came into office. Little was said about soldiers dying. We never saw soldiers' funerals. Now, things have changed. Is this something you feel the public needs to see?
Absolutely. I think the public needs to see it and needs to talk about it and not from any kind of political perspective. You get that from our movie. It's not about the politics; it's about the human cost. It's not only human loss and human lives, it's returning soldiers who have physical and mental problems. These guys are going to need help and support. It's really the responsibility of society to take care of its warriors in the best way possible. I think too often in our history the people that had to deal with the consequences of war were neglected and not supported enough by the general population. I think it's important to be honest and tell people about the stories that are going on over there. I think it would be a way to honor these guys.
The film talks a bit about how Casualty Notification has changed over the years from a simple telegram being sent out up through Vietnam to the more recent changes where a chaplain is even brought on visits to the family. Do you think this evolution is a change for the better?
The military deserves a lot of credit for taking this on and trying to figure out how to make it better because, clearly, this is not something you can make better. It's a horrible thing that can happen to a family. It's a harrowing situation to be in. I think it's a difficult question to know the best way to do this, but I applaud the army for constantly updating `the system` and thinking about how they can make it a little bit more conducive for the people who have to deal with this.