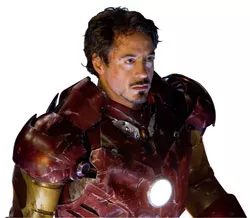 Heavy metal: Robert Downey Jr.'s Iron Man is a playboy inventor with a sudden change of heart.
Iron Man
Director:
Jon Favreau
Screenwriter:
Jon Favreau
Cast:
Robert Downey Jr., Gwyneth Paltrow, Terrence Howard, Jeff Bridges, Shaun Toub
Release Date:
2008-05-07
Website:
http://ironmanmovie.marvel.com/
Rated:
PG-13
Genre:
Action
In terms of household name-recognition, Iron Man has never been the most well-known superhero. Sure, he's popular with fanboys (even though he's been acting like a douche in the comics lately), but the average Joe or Jane probably wouldn't know him from Crimson Dynamo. He doesn't have the history of Superman, the pathos of Batman, or even the theme song of Spider-Man. ("Iron Man / Iron Man / Does whatever an … iron can?" Tough luck, Shellhead.)
As of last weekend, that all changed. Iron Man raked in more than $100 million at the box office, ensuring the character's future as a film star and pop-culture icon.
And with good reason: As big popcorn entertainment goes, Iron Man is virtually flawless despite its formulaic birth-of-the-hero storyline.
Billionaire playboy Tony Stark (Downey Jr.) is a womanizing, weapons-designing genius who lives the life Bruce Wayne pretends to live: His cars are fast, his house has a computer butler (eat that, Michael Caine), and his private jet is staffed by pole-dancing flight attendants.
But just before the movie veers into Austin Powers territory, Stark gets a harsh dose of reality while demonstrating his newest weapon, the Jericho missile, in Afghanistan. Kidnapped and critically wounded, his life is saved by a makeshift pacemaker courtesy of fellow captive Yinsen (Toub). Ordered to construct the Jericho for his captors, Stark instead uses the raw materials to build a makeshift suit of armor, bust some heads, and bust free.
Having seen firsthand what his inventions are capable of in the wrong hands, Stark returns to America with a weak heart and a newfound conscience. Determined to right his wrongs, he quits the business of building weapons, save for his latest creation: A more-refined armor suit that transforms him into Iron Man.
OK, so it sounds like your standard "with great power comes great running time" origin story. And that's
basically what it would be, if not for two things: Robert Downey Jr. and Robert Downey Jr.'s
ad-libs.
Downey plays Stark like a manic, alpha-male version of himself: They're both brilliant in their respective fields, have been vilified in the press, and fought demons in bottles. Much of Stark's quirky wit was invented by Downey on the set (his Jericho speech and the impromptu press conference were heavily improvised), but he always gives Stark a human heart under the aloof exterior. Downey doesn't just carry the movie — he puts rocket boots on and lifts it into space.
Director Jon "Don't Call Me Foggy" Favreau may not be a visual stylist like Sam Raimi or an auteur like Ang Lee, but he's smart enough to hire great actors and let them, you know, act. Downey, Gwyneth Paltrow, Terrence Howard, and Jeff Bridges are more than up to the challenge; they're easily the best superhero cast since Batman Begins.
Speaking of Batman Begins, much will be made about the similarities between the two films, which are superficial at best. Begins attempts to wrestle some heavy themes; Iron Man, not so much: It glosses over Middle East politics and doesn't really pause to weigh the moral implications of America's weaponry fetish. Instead, the film flirts with these grey areas until it gets bored and blows things up.
But, hey, it's summer! If you want preachy messages about geo-politics, rent Syriana. Iron Man has only one message: It's fun to watch two guys in armor suits duke it out. (Indisputable fact, dating back to the Roman Empire.)
So: Is there room for two crime-fighting, billionaire superheroes in cinema? Looks like there has to be. Iron Man 2 is slated for 2010. •