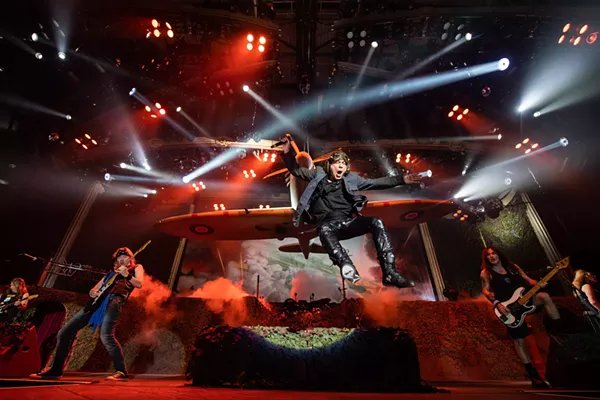 Iron Maiden, John McMurtrie
Oh shiiiiiiiiiiiiiiiiiiit.
Metal mammoths Iron Maiden have just announced a return to San Antonio.
"This inspired us to put together a stage show to take our fans through different Worlds and experiences set to appropriate songs," singer Bruce Dickinson said in a statement in
Rolling Stone
. "It is not that easy designing different Worlds on stage and we put a huge amount of work into this to make it work and the end result we feel is our most spectacular and certainly the most complex show to date."
Dickinson continued, "We've got all kinds of crazy things going on, including a replica Spitfire plane dominating the stage during 'Aces High,' tons of pyro, a giant Icarus, muskets, claymores and some truly marvelous flame-throwers which I have a hell of a lot of fun with, as you will see! And of course we have Eddie, as you've never seen him before, and absolutely loads of other surprises. I've had the time of my life playing with all these magnificent props on stage, it's been fantastic, we can't wait to bring this show to you!"
In the same statement, bassist Steve Harris said that each show would feature "a very strong and well balanced set mixing songs we haven't played in many years like 'Flight Of Icarus,' 'Sign Of The Cross' and 'The Clansman' with songs we know the fans want to hear like 'The Trooper,' '2 Minutes To Midnight,' 'The Number Of The Beast,' 'Fear Of The Dark,' 'Run To The Hills,' 'Hallowed Be Thy Name' and others."
The 33-city North American leg touches down in San Antonio on Wednesday, September 25, 2019 at the AT&T Center.
Tickets
for the Legacy of the Beast Tour go on sale beginning Friday, November 16.
*Listens to "Fear Of The Dark" on repeat*
Get our top picks for the best events in San Antonio every Thursday morning. Sign up for our Events Newsletter.