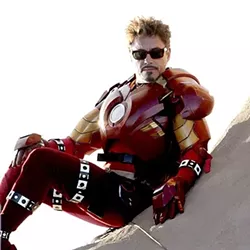 Critic's Pick
Iron Man 2
Director:
Jon Favreau
Screenwriter:
Jon Favreau
Cast:
Robert Downey Jr., Gwyneth Paltrow, Don Cheadle, Mickey Rourke, Sam Rockwell
Release Date:
2010-05-06
Rated:
PG-13
Genre:
Film
Our Rating:
3.50
I hate to say it, but I think it's finally time to forgive Jon Favreau for directing Made and Elf. I'll need another viewing to decide which Iron Man is better, but part two tips the scales back in his favor. (It's important to note that I have not seen his Jumanji sequel Zathura, so I'm just pretending it never happened.) It's entirely possible that 2 is actually better if only because it's moved past the origin story into mostly original territory.
The film opens on Ivan Vanko (Rourke, even skeezier than usual), a vodka-glugging Russian straight from a Cold War-era cartoon. He's watching news footage of gajillionaire Tony Stark (Downey) admitting he's Iron Man. Vanko grunts bitterly, watches his father die, then gets to work building an arc reactor — the super-secret power source for Iron Man's sexy mech suit — from a blueprint that apparently just happens to be lying around in his Siberian hovel. How Vanko got hold of the plans, and what exactly he's so pissed off about will take about an hour's worth of screen time to explain.
Cut to the US of A, where Tony's kicking off the World's Fair-like Stark Expo with the most self-aggrandizing America-rules spectacle this side of Apollo Creed's pre-death dance in Rocky IV (a film IM2 bears more than a slight resemblance to, which I'm thinking means it doesn't quite equal the original), sexy Iron Man-themed dance troupe and all. Shortly after Stark delivers a keynote speech so cocky it's practically begging karma to bend him over, he's served a subpoena directing him to testify at a congressional hearing where Senator Stern (the always awesome Garry Shandling) demands Stark turn over the Iron Man suit to the U.S. government, which totally won't wind up using it to blow up an Iraqi daycare or something.
You probably think you can see where this is going and you're probably right, but there are still several surprises before the conclusion, mostly due to some truly jaw-slackening special effects. For the majority of its runtime, this movie looks like it cost enough to feed the world's starving children for a year, though its final battle is probably the most anticlimactic I've seen since the Super Shredder showdown at the end of Ninja Turtles II.
Once again, though, Downey's charismatic performance saves the day as he manages to convincingly pull off playing a smug, good-looking WASP with a substance-abuse problem. He really nails the qualities that make the comic-book version of Tony Stark a compelling read. Unlike, say, Superman or Thor, Stark is a flawed human being. Beneath his killer mech suit, he's a lot like us: He's a rich, narcissistic womanizer just like me and a stumbling, pants-pissing alcoholic just like you. Seriously, I've been meaning to talk to you about your problem, but I'll save the intervention for the Marmaduke review, when there's nothing more interesting to talk about.