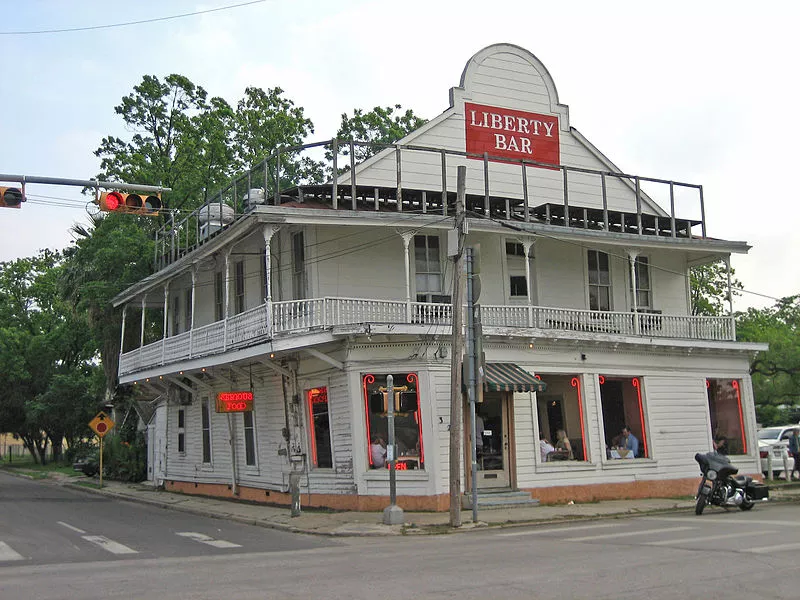 Courtesy Wikipedia.
The home of the former Liberty Bar/Minnie's Tavern may be uprooted from its current location. According to the HDRC agenda for next Wednesday's meeting, Bill Shown of Silver Ventures (aka the folks behind the Pearl), is requesting to relocate the building from 328 E Josephine to 618 Avenue A, a hop-skip away from The Granary Cue & Brew.
The Boehler House, which is currently home to Minnie's Tavern is believed to have stood there since 1890, and the home at 923 Avenue A is believed to have been built in 1905.
According to chef Andrew Weissman, current owner of Minnie's Tavern with a partner through Tavern LLC, the decision to close the restaurant that opened around this time last year was a tough one to make, but a business decision, nonetheless. Most of the 18-20 staff members of the restaurant would be absorbed through the chef's other eateries. Weissman also noted the sale of the building isn't entirely certain just yet.
According to HRDC documents, the proposed move is recommended for approval, "with a stipulation that every attempt within reason be made to maintain the existing leaning condition of the structure," which they deem as "located in a prominent corner" and "is believed to have a connection to the 1921 flood" (when it gained its signature crooked look.
In their findings, City staffers note, the applicant wants to vacate the lot for future parking lot use.
As of the April 29 meeting, one of two commission members present was in favor of the relocation while the other was not.