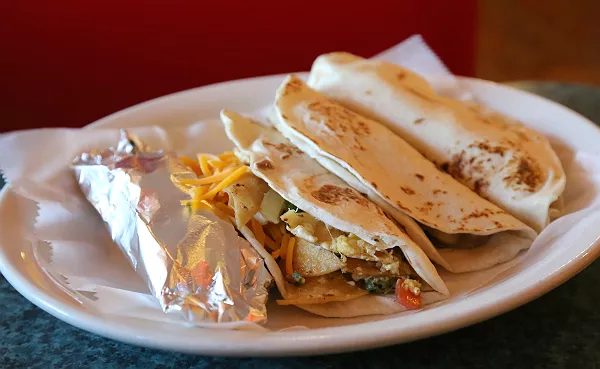 Reposted with permission from The Tacoist.
Reposted with permission from The Tacoist.

The name of the place is Isela's Tacos, but it should be Isela's Wonderful Tortillas. What filled the tortillas was good to very good, but the flour tortillas emerged as one of the best so far on this Tacoist odyssey.
They are light and kind of that perfect thinness/thickness. And they have that softness and pliability that comes from the taco puffing up from its time on the
comal
.
I was sitting in a booth next to a window, and when I opened the tacos just enough to show what was in them — for photography purposes — steam rose in the light. And it continued to rise — these tacos were made fresh. The chilaquiles were one of the crispiest chilaquiles I've had to date with a satisfying crunch, the chips not too greasy. The pepper in the taco gave it a nice bite throughout.
The papa and bean was good, too, with its smooth and seemingly whipped beans as a kind of accompaniment to well-seasoned potatoes.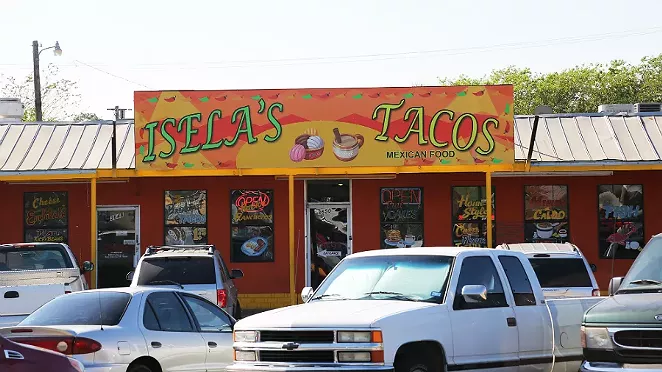 Ben Olivo
Isela's Tacos has some really good tortillas.
Then I made a mistake. I also ordered the huevo a la Mex, which I realize is a chilaquiles but without the chips and cheese. Again, excellent tortilla, and fresh and perfectly cooked egg that had a nice pop of flavor from the diced onions and peppers.
Finally, the chorizo and bean was too creamy. It ran, like a liquid. Messy. And with a strong chorizo flavor — you could actually single out the paprika.
If you want it, the green serrano sauce was potent and watery, and the only one available.
But back to those tortillas. Yes, I recommend them. I also recommend this place. I gravitated toward here as I was cruising Culebra Road because it looks dumpy from the outside. Inside, however, it was nearly spotless and a big restaurant with about 20 booths and tables. They have, like all taquerias do, an old retired dude drinking coffee and eating tacos alone who eyeballs everyone.
Isela's Tacos is one of those places to which I'll return to further explore its menu, and to eat more of those tortillas.
Isela's Tacos, 3650 Culebra Road, (210) 468-2240

Visit
The Tacoist
for more snapshots of San Antonio taquerias.