Ben Olivo
The Taco Callejero at Matehuala Cafe #2 is the perfect marriage of pastor and chorizo.
Reposted with permission from The Tacoist.
Thank goodness I brought more than one taco enthusiast with me to Matehuala Cafe No. 2 on South Presa Street. One, we'll call The Palette, is a regular on Tacoist taqueria visits. The other we'll call California Native, who described Matuhuala's menu as overwhelming.
It definitely is.
There were tacos on this menu I hadn't seen before and this is a very, very good thing. Matehuala has the list of San Antonio standards, but then there's a subsection that includes beauties such as the Taco Loco (potato, egg, cheese and bacon) and the Super Taco (potato, chorizo, cheese and bacon). This is awesome. I love when taquerias think outside the box.
We started with the Taco Delicioso (sausage, potato and cheese in a ranchero sauce) but unfortunately the bar for this taco was set too high. Because if you're going to name a taco such, it better get really close to mind-blowing. We weren't big fans of the sausage, but the potatoes and sauce were well seasoned. This is a plain good taco, but to call it Taco Delicioso is a stretch.
We loved the Taco Callejero (pastor, chorizo and queso fresco). This was a perfect marriage of pastor and chorizo to make like a new ingredient — like blue and yellow make green, but in a tortilla. The cilantro, queso fresco and corn tortilla added one delicious element after another.
And then we just kept going.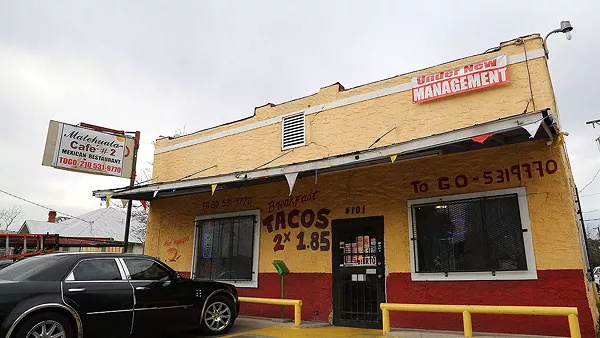 Ben Olivo
Matehuala Cafe #2 is located at 4101 S. Presa St.
• Chorizo queso: Greasy, but very cheesy and very good. Strong paprika flavor. A greasy chorizo but not inedible.
• Mollejas: Yes, we went there. And these were very good. Sweetbreads, as you may or may not know, are the innards of the calf, typically the thymus gland. This is according to Tom Colicchio's "Think Like a Chef," which is one of my favorite books of all time. These were well charred and smoky and mixed brilliantly with grilled vegetables.
• Papa a la Mexicana: Very good potatoes that were crispy on the outside combined with a nice flavor from the peppers.
• Bean and cheese: The beans had a purity to them, like perhaps they weren't cooked with a lot of animal fat. They just needed a little salt. Definitely could use the house salsa. California Native really liked this one.
• Chilaquiles: The first thing I look for in proper chilaquiles is crispy chips. And these were very crispy. The overall mixture had a kick to it from the peppers. But I wanted more sauce and more cheese.
The flour tortillas were about average, but I don't mean that in a pejorative way. I'll put San Antonio's average tortillas up against any city's any time. And you have a couple of hot sauces to choose from — a green that is your basic serrano pepper and garlic blend and a red that was vinegary, hot and orange. We couldn't figure out what peppers they used, but the heat definitely lingers.
I really liked Matehuala Cafe No. 2 for its inventiveness and I'll definitely be back to explore more of the menu. I'm still waiting for someone to invent the macha-quiles? Whether its Matehuala or not, can someone get on that please?
Matehuala Cafe No. 2, 4101 S. Presa St., (210) 531-9770.

Visit The Tacoist for more snapshots of San Antonio taquerias.