The San Antonio Lyric Opera's 2004-05 season includes special effects for the scene in which Don Giovanni is dragged into hell's maw (June 17-19).
San Antonio's Lyric Opera returns from the brink grander than ever
"Ihave a lot of ambitions," says Mark Richter, director of the San Antonio Lyric Opera. It's a statement few who know the effusive tenor would dispute. In addition to more or less singlehandedly pushing and prodding the company to life, Richter has appeared in "dozens" of local musicals, organized The Three Tenors shows in San Antonio and Mexico, and runs side businesses in promotions, wedding music, and PR. "Everyone always needs a little extra cash," he says. That's not only true for many of San Antonio's "creatives" but for the organizations that employ them.
A couple of years ago, it looked as if the Lyric Opera might go the way of the Edsel - a beautiful but impractical idea that just couldn't find its niche. Reports of unsuccessful check-kiting and a $200,000 deficit sounded dire. But like opera's martyred heros and heroines who rise from the dead with each new production, the Lyric Opera has staged an impressive comeback. The small company has staged six major operas since then, including Puccini's Madama Butterfly in August, Richter notes, adding ruefully that their recovery hasn't drawn as much ink as their anticipated demise.
In mid-November, the Opera will travel to New York to audition more than 200 singers for its 2005-06 productions. Now in its eighth season, the company lures talent such as regular Metropolitan Opera bass Terry Cook and audience members from Laredo to Austin, and is busting at the seams at McAllister Auditorium. "We're at the point we're shooting ourselves in the foot if we don't find a larger space to perform," Richter sighs with exasperated pride.
In a chorus repeated throughout the performance halls, galleries, and studios of San Antonio, a move to a larger venue - where Richter thinks they could add another 200-300 patrons to their 1,000-plus crowds as well as perform more elaborate and larger operas - would require a lot more cash than the Opera's current $600,000-700,000 budget. "We have the audience," Richter says. "We lack the corporate support and larger private donations."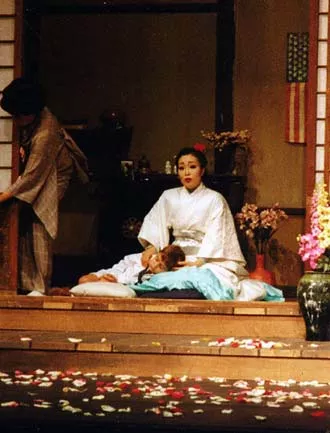 Puccini's much-loved Madama Butterfly held the stage at McAllister Auditorium in August.


San Antonio's Lyric Opera began its run on borrowed stages, using existing sets for theater productions, but even with the corners trimmed, opera is not a low-overhead pleasure. "My goal was that every opera would start slowly evolving to something bigger and better," says Richter, who has his sites set on Bernstein. The spring production of Mozart's Don Giovanni, for instance, will cost around $150,000 to produce, approximately $90,000 of which they expect to recoup through ticket sales.

A natural impresario, Richter is certainly willing to be imaginative when it comes to fundraising: A June bullfight, staged in honor of the company's production of Carmen, raised Lyric Opera's profile but not as much money as they had hoped due to "surprise expenses." A benefit scheduled for November will revolve around a semi-staged version of Carousel at the Scottish Rite Temple.

With an estimated $4 million in renovations, Richter believes Scottish Rite would make a good home for the Opera, with more than 100 scene drops that "are like works of art." The Majestic's opera pit is too small, he says, and "Lila Cockrell would be fine, but conventions own Lila Cockrell." Ultimately, however, he'd like to see a performing arts complex along the lines of Houston's Wortham Center. The Opera uses some 30-35 members of the San Antonio Symphony in its productions, and Richter is also interested in working with the SA Metropolitan Ballet. "Everything could come together with collaboration under one roof." •

By Elaine Wolff