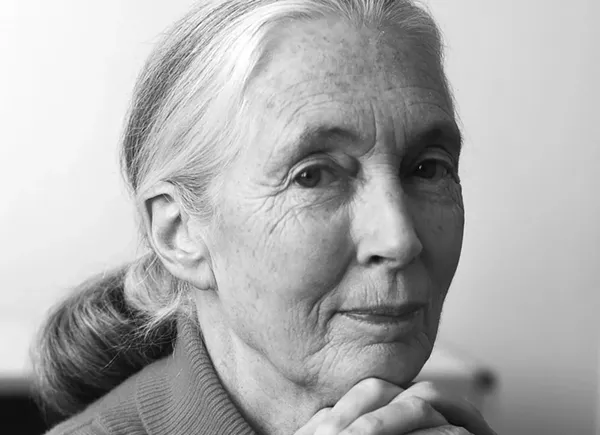 David S. Holloway
Dr. Jane Goodall will speak at Trinity University on Thursday.
You know Jane Goodall. She's the chimp lady. Either she's always been there, on the periphery of your everyday consciousness thanks to her celebrity status or — especially for those in fields that involve the study of animal groups — she's been there quite consciously, as a paragon and a guiding light.
The English primatologist, ethologist, anthropologist and U.N. Messenger of Peace, now 81, revolutionized the way we think about and study animals. It was Goodall who first realized that in order to understand and learn from animals, we have to live with them in their environments. She's also, over the years, been an impassioned voice for environmentalism, nonviolence, and, speaking generally, for temperance, compassion and a child's sense of wonder.
Now, Goodall's coming to Trinity University to speak as a part of the DeCoursey Lecture Series and to promote The Jane Effect. A new book from Trinity University Press, The Jane Effect celebrates her wide-ranging impact with over 100 testimonials from folks whose lives she's touched. The talk is already sold out, but there is first-come-first-serve overflow space available at Stieren Theater on campus, and you can stream it at live.trinity.edu.
Goodall was not available for pre-lecture interviews, but the San Antonio Current spoke to her biographer and co-editor of The Jane Effect, Dale Peterson, himself a celebrated nature writer. Peterson first met Goodall in June 1989 while working on a book about chimpanzees. Since then, as her definitive biographer, friend and student of sorts, Peterson has been fortunate enough to spend a great deal of time with the renowned scientist. In our chat, excerpted below, we discussed the varied lessons that Goodall has to teach us.
Courtesy
Dale Peterson shared what he's learned as biographer and friend of Jane Goodall.
What are the most important lessons you have learned from working with Jane?
Many people who are into animals have trouble with people, but that is not the case with Jane. She is so generous of spirit and comfortable with people. Some specific things I value that I learned from her ... There are some lessons of style: her humility and warmth and generosity towards people and animals has had a profound effect on me. I became a vegetarian, at least in part, because of her example, although it took a while.
I also learned a great deal about writing about animals from Jane. We have these habits in Standard English that create this illusion that humans are the only really conscious beings in the universe. One of these habits is referring to animals with the same pronouns that we use to refer to things. Instead of "he or she" we usually say "it." And Jane encouraged me to think about that practice and break with it. Jane taught me that this practice is not only a dishonest representation of reality, but it also perpetuates stupidity about animals. Fixing it just requires a bit of effort and it can have quite an effect.
How does the study of animals in their environments enrich human life?
We are in the middle of an extinction crisis. We are losing incredible numbers of animals and species, and most people don't talk about it. And that's unfortunate. This completely parallels human population growth in an inverse correlation. If you look back at the start of the Industrial Revolution, there are now roughly 10 times as many people on Earth as there was that very short time ago. In the meantime, there are about one-tenth as many large animals — from chimps to orangutans and bonobos, to giraffes and big cats, and so many more.
So, I just think it is just a bleak scenario if our grandchildren don't know a world where there are actual wild animals living freely in the wild. It would be tragic. This is what we are losing, so this is what I write about. I am a lover of animals, and they spark my imagination and give my life meaning, and I'd like to think that others feel the same. These are great treasures of the planet and we need to preserve them.
Some will stubbornly wonder: Why not focus on all the suffering humans in the world? Why animals?
The question is really a false dilemma. Human suffering and animal suffering are not two opposing things. They are part of the same thing: beings on this planet who are suffering. There is no logical reason to suggest we can only be concerned about one or the other. But really, I suggest you ask Jane that question.
An Evening with Jane Goodall
Free, 7:30pm Thurs, Sept 24, Laurie Auditorium, 715 Stadium Dr., (210) 999-8117, tupress.org