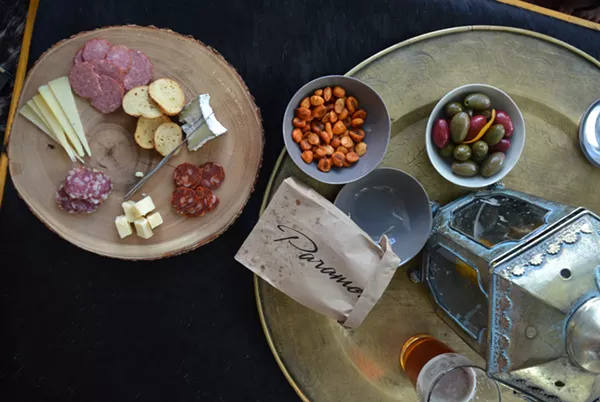 It was a two year on-again, off-again kind of thing until it wasn't. Paramour, downtown's first rooftop bar, and Jason Dady (you may know him as San Antonio's Iron Chef Gauntlet cheftestant and owner of Tre Enoteca, Tre Trattoria, Shuck Shack, The Bin, Two Bros. BBQ and the upcoming, Range) have decided to make it official.
During a media tasting, the bar and chef announced a new longterm partnership that makes Dady the exclusive caterer of Paramour. The move is ushering in a new phase for the bar as it's added and changed up its furniture, and gone all-in on themed brunches (burlesque on August 20, September 3, 10, and 17 and Drag Brunch on August 27 and September 24) and even "A Toast to Mayor Ron Nirenberg," this evening.
And fun events demand fun food. Though Dady's menu has been in the works for somet time and implemented throughout the last few weeks, past brunch menus meant catered breakfast tacos. Dady's menu brings some of the chef's greatest hits from his other restaurants — deviled eggs, grilled goat cheese sandwiches, duck confit tacos (a major throwback from the DUK Truck), Spanish Quicos, almonds, olives, cheese plates and charc plates. Prices are comparable to Dady's eateries as well. Expect to pay anywhere between $4 and $9 for smaller bites, and $15 to $50 for a large charcuterie plate.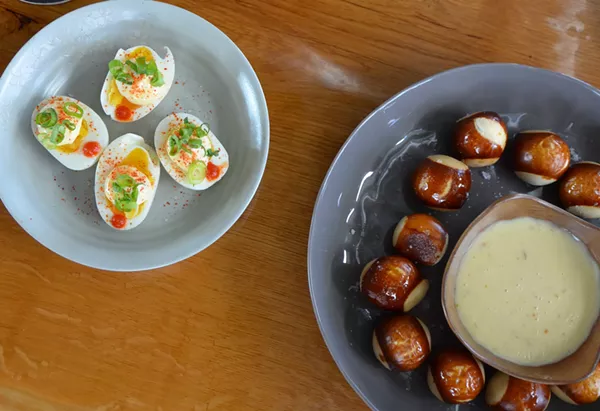 The chef also shared a few fun additions including "Mexican Street Popcorn" with fresh-popped corn, cotija, lim and chile powder; salted pretzel bites with smoked Gouda fondue, white cheddar pimento cheese and assorted dark chocolates with nuts and berries for those with a sweet tooth.
Brunch will give a wink to dim sum carts, complete with order cards. Small bites include "fancy" donuts, eggs in purgatory, deviled eggs, and grilled cheese sandwiches, while medium bites include Mexican pastries, granola and yogurt parfaits, duck confit tacos, breakfast tacos and a donut "bag."
The new menu is available 4 to 11 p.m. Monday through Thursday; 4 p.m. to midnight Friday and Saturday and 10 a.m. to 3 p.m. Sunday.
102 9th St., Suite 400, (210) 340-9880.