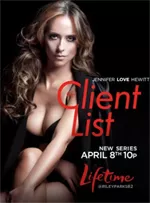 If getting a full body massage by actress Jennifer Love Hewitt is on your list of sexual fantasies that will never happen in your lifetime, live vicariously through the characters in The Client List, Hewitt's new Lifetime TV series based on the 2010 made-for-TV movie she also starred in. We can't promise its good, but there's bound to be a lot of happy endings.
In The Client List, Hewitt, 33, who is originally from Waco, Texas, plays Riley Parks (in the TV movie her name was Samantha Morton), a suburban Texas housewife who takes a job as a masseuse at a massage parlor to earn money for her family who is facing foreclosure and other economic issues.
Although Hewitt decided not to visit the type of shady massage parlor her character works at for research on the industry, she admitted to calling up her masseuse friend whenever she needs to relax and get a massage herself (the non-sexual kind, of course).
"It's a way for me to consciously take a minute for myself," Hewitt told me during a phone interview last week. "I don't always lie down on the table. Sometimes it's just like sitting up in a chair and getting my shoulders and neck rubbed or whatever, but it's good."
It's during this "me time" when Hewitt can also take notes and incorporate any of the same massage techniques her friend uses into the show. Call it a perk for the extras.
"It's research for me as well because if she does something and I'm like, 'Oh wow, that's really cool and that feels nice,' then she can teach me how to do that," Hewitt said. "When I'm actually doing a massage on the show, I can look like I know what I'm doing. The actors can go home and be like, "Yes! I actually got a little bit of a massage!"
One of these actors was a man with a little more hair on his chest and back than most of Hewitt's clientele. Actually, to call the man a direct descendant of the Humanzee would be an understatement. Showing just how committed she is to her role, the scene includes Hewitt rubbing oil deep into the man's frizzy locks.
"That was very interesting, but he was a lovely man," Hewitt said. "He was very sweet and was so gracious knowing I was making all these funny faces behind him. It was definitely something I have not experienced before for sure."
The Client List debuts tonight, April 8, at 9 p.m. on Lifetime.