Lately, there have been serious rumblings that the Bexar County Public Defenders office is yet again due for a reckoning. The office, which currently handles appeals and some mental health cases (but no trials) for those who can't afford to hire their own lawyers, has butted heads with its overseers at the County nearly since its creation in 2005, and more than once, employees both of the office and the County have recommended it be completely dissolved rather than continue in its current form. The Current will run a much more involved article examining complaints against the office and the County's proposed solution soon, but for now, here's a story that illustrates the office's work.
Jesus Angel Garcia, wearing flip-flops and cargo shorts when pulled over in November 2010, said he was cold and rushed through his field sobriety tests
To hear Jesus Angel Garcia tell it, he was in a pretty desperate spot one chilly night in late November, 2010. A baby-faced man in his late 20s at the time, Garcia had spent that Monday evening with family and friends. He estimated he drank two to three beers, according to court transcripts, and testified in court that he went home with his girlfriend at around 10 p.m. Later in the evening, between 1 and 1:30 a.m., he claimed he received an urgent phone call from a co-worker who owed him money from a recent carpet-installation job. The co-worker had his wages, but was leaving town the next morning and told Garcia if he wanted his share any time soon, he had to pick it up immediately. It was money, Garcia reluctantly told the court, he needed for necessities like groceries. He hurried out in house shoes, a T-shirt and shorts. On his way home, he got pulled over and arrested for driving while intoxicated.
During his February 12, 2013, trial, Garcia pled not guilty and took the stand in his own defense. His testimony, versus the arresting officer's testimony, was essentially the only evidence admitted into court for the swift, decisive trial. The officer claimed he did not have video or audio monitoring (often referred to as a "dashcam," SAPD equipped its DWI patrol cars with them starting in the early 1990s, but did not expand the program until 2011 according to the Express-News) to capture the three field sobriety tests he administered to Garcia in a parking lot on the side of North New Braunfels near East Houston street, but the officer testified that Garcia failed them all spectacularly. Yet, he did not pull Garcia over for a moving violation, and testified that he observed no suspicious driving on Garcia's part. Rather, he pulled Garcia over because the vehicle—a Ford mustang his girlfriend had recently purchased used—had temporary tags. The officer claimed these tags were not the standard dealer tags that are commonly doled out to cars purchased and then driven off the lot, but the type that are used for vehicles on test drives. To the officer, that indicated the car could have possibly been stolen, and justified him pulling over Garcia. On the stand, he said when he questioned Garcia about the car, he smelled alcohol (or "intoxicants") and Garcia seemed to be slurring.
Garcia, who spent 164 days in the Bexar County Jail rather than plead guilty, disputes this. Garcia disputes the whole police report. But Garcia, despite his divine name, lost.
The jury found Garcia guilty and Judge Jason Wolff sentenced him to a fine and jail time that was credited to time served. Between this arrest and his trial, Garcia was arrested on a second DWI. This time, he asked for a blood test. It took about three months for the results to come back, but when they did, it showed less than the legal limit of blood-alcohol content and he was released from jail.
Perhaps the outcome of that second DWI has galvanized Garcia to pursue all the rights accorded to him under federal and state law, which includes an appeal filed by the Bexar County Public Defenders office.
Nothing in the transcript suggests that Garcia's original, court-appointed attorney performed in the egregiously bad way that an appeal on grounds of ineffective counsel requires. But Garcia and the public defender assigned to handle his appeal, Richard B. Dulany, tried to prove that's because a key piece of evidence, the demonstration tag, was never admitted.The tag was not made part of the record on appeal, so initially Dulany argued that even if the tags were the type used in test drives, they're the same as those used for "loaner" vehicles a dealership might give to customers getting their car serviced. While it very well may be suspicious for a car to be on a test drive at 1:30 a.m., Dulany argued in the appeal that the other function of the tag "was entirely consistent with innocent, lawful behavior," and thus, the officer's misunderstanding of the Transportation Code was not enough to pull over Garcia in the first place and the resulting evidence from the stop could have been suppressed. That, the appeal filed in the spring of 2013 states, is enough to establish that the court-appointed defense attorney "fell below an objective standard of reasonableness" and that deficiency turned the outcome against Garcia. However, on appeal, Justice Karen Angelini of Texas' Fourth Court of Appeals sided with the original judgment on March 12, 2014.
But just after Dulany filed his brief, the district attorney assigned to Garcia's appeal shared with him one thing that Dulany believes might just make a difference: the actual temporary tag.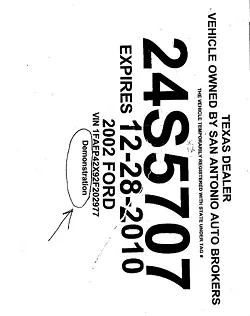 The tag on the vehicle Jesus Angel Garcia was driving the night he got arrested
So, Dulany filed something he rarely does, a sort of "hail Mary" of the justice system called a petition for discretionary review, or "PDR." It is essentially Garcia's last shot at getting his conviction overturned via a court-appointed, as opposed to a hired, lawyer.
In the PDR that Dulany filed, he noted that "it is readily apparent that the tag is a vehicle-specific one" and not, as the officer claimed, a more generic type used for test drives. Ergo, Dulany argued in the petition, the traffic stop was unlawful and the officer provided false testimony. The officer clearly stated during the trial that the type of tag he saw would have zeros for the VIN and zeros for the year and make of the vehicle, although he mentioned that in any case, it's hard to read the numbers and fields on a moving vehicle. The tag above includes those fields. The question is: is driving around with temporary dealer plates late at night enough to pull over anyone?
The petition is still under review, and the chance of it succeeding, some familiar with criminal appeals say, is perhaps one percent. If the PDR is granted, Garcia will get a "do-over" on his day in court.
Criminal court appeals work out in the defendant's favor a small percentage of the time. In Bexar County currently, the range is estimated to be between two to five percent. A petition for discretionary review or the even more last-resort writ of habeas corpus is even less likely to be granted. Yet, the right to a fair trial is famously enshrined in the Sixth Amendment, and the assistance of counsel for anyone, even if they cannot afford it, was affirmed by the Supreme Court in 1963's landmark case Gideon v. Wainwright. That holds for pleas, trials and, in Texas, the right to an appeal. It's Garcia and his attorney's right to take this appeal to the Supreme Court if they so choose.
For Garcia, who could have been free of this ordeal long ago save for some stiff jail time served had he pleaded guilty, it comes down to what he described in court as being "railroaded." In an interview in mid-May, he said, "somebody needed to stand up to that officer." His decision to plead not guilty and pursue that claim as far as he's legally allowed came, he said, "when I read the police report; I couldn't believe it." In court, under oath, he described the police report as "not accurate at all."
Although the odds appear strongly against Garcia and in favor of his original trial outcome, wrongful convictions do occur and are sometimes even overturned. In fact, according to the National Registry of Exonerations, the trend for exonerations is ascending. Last year, 90 exonerations were issued, the highest number recorded for any year the Registry tracks. Though those crimes garnered felony convictions, it's not unreasonable to think that wrongful convictions likely extend to misdemeanors as well. Perhaps even to Garcia's DWI.
A key element in proving a wrongful conviction, of course, is the defense attorney. After Gideon and especially after Texas' passage of the Fair Defense Act in 2001, large counties across Texas have begun to create Public Defenders offices, which generally augment the court-appointed attorney system by providing full-time, salaried attorneys to serve indigent clients. Yet Bexar is currently the only one that neither independently reports to the County Commissioners nor is considered a "stand-alone" office by the Texas Indigent Defense Commission, and that's particularly troubling to attorneys specializing in indigent defense work. Now, a growing consensus has implored the County to reorganize the department to better serve Bexar County residents that could qualify for indigent defense if charged with a crime (in FY 2013, 60 percent of all misdemeanor defendants and 70 percent of all felony defendants in Bexar County qualified for indigent defense)*, and the County appears to be listening.Whether they'll take effective action this time remains to be seen. Look out for the Current's in-depth examination, coming soon.
*Corrected May 27 4:53 p.m.: An earlier version of this blog grossly and incorrectly overestimated the number of Bexar County residents who could qualify as indigent. We regret the error.