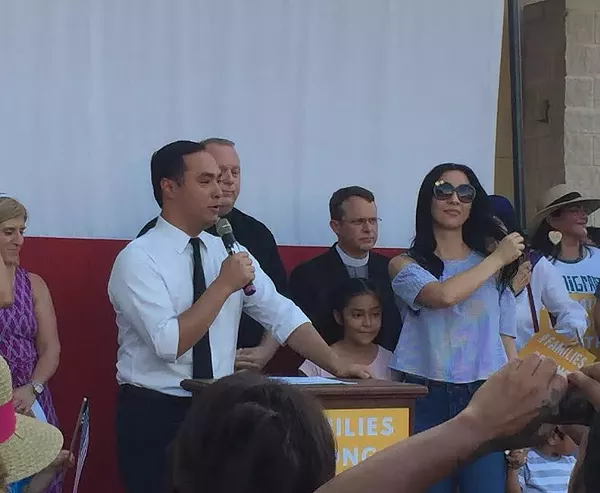 Sanford Nowlin
Joaquin Castro speaks at the West Side rally, surrounded by his family and local faith leaders.
U.S. Rep. Joaquin Castro joined other political and religious leaders at a Thursday night rally condemning the Trump Administration's policy of separating minors from their parents if they're suspected of crossing the border illegally.
About 300 people gathered in the West Side's Guadalupe Plaza to listen to speakers of a variety of faiths urging the administration to abandon the policy. Attendees carried signs reading "#WhereAreTheChildren" and "#FamiliesBelongTogether."
"Today is not about politics. I'm not speaking to you as a Democrat," said Castro, D-San Antonio, whose office
helped organize the event
. "This is very much a call to conscience. This is what our nation fundamentally stands for."
Castro said nearly 700 children have been separated from their parents during recent border crossings. Some parents have been unaware for days or weeks where their children are, he added.
Attorney General Jeff Sessions, an immigration hardliner, announced the zero-tolerance policy in early May.
"If you don't want your child separated, then don't bring them across the border illegally," Sessions said.
Speakers at the rally urged attendees to put themselves in immigrants' shoes. Symbolically, dozens of pairs of children's shoes were arrayed around the podium.
"It's easy to forget where we come from," said Temple Beth-El's Rabbi Mara Nathan. "It's easy to forget that one time we too were looked at as the other."
Stay on top of San Antonio news and views. Sign up for our Weekly Headlines Newsletter.