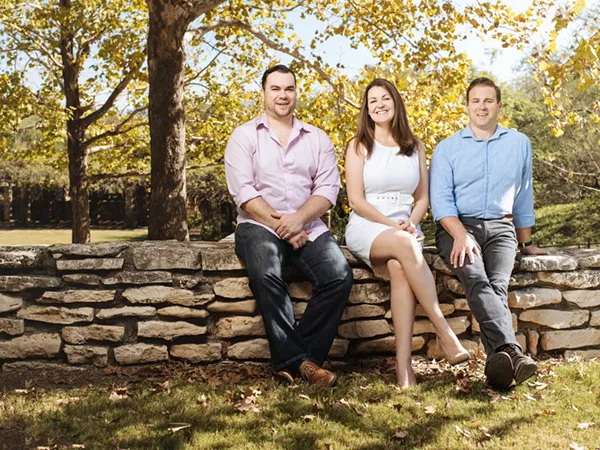 Time is a funny thing. For John and Elise Russ, the one-time frenemies turned husband and wife and San Antonio transplants, the last seven years have been a whirlwind. From those early days as "oil and vinegar" while working together at The Inn at Perry Cabin in Saint Michaels, Maryland to relocating to the Alamo City to head the kitchen at Lüke San Antonio, to getting married, to working behind the scenes with the San Antonio Cocktail Conference, to leaving Lüke, to welcoming their first daughter, the Russes are adding restaurant owners to their already hectic life.
If all goes well, 2017 will end on a very different note from last year for John and Elise with the upcoming opening of Clementine.
"We've been working on this restaurant since we met, dreamin' and schemin' ever since and it's changed so much," Elise said.
And it's changed within the last year after John left Lüke San Antonio with different locations being considered as a home for Clementine. This October, they eventually landed on a shopping strip at the corner of NW Military and West inside the former Rossini Italian Bistro. After a superficial remodeling that switched out dark and brooding décor for a light and tranquil ambiance, the couple will add a chef's table and open the doors.
"The concept changed a lot to become more neighborhood and family friendly in the last year," Elise said.
Consistency, and a shot at a family life, is what prompted the pair to go smaller. They wanted a place where either John or Elise could helm service (with the help of manager Patrick Frasier, formerly with Bohanan's) and go home to their daughter at the end of the day.
"We're running an experiment to see if we can do both," John said.
The menu will be made up of small plates (not shared plates, mind you), with a family-style lean. And though Louisiana native John will be designing a menu of Southern dishes, he's also adding new spins on those classics. Think hushpuppies inspired by India's chickpea fritter served with an herbed labne.
"It's not just fried chicken and biscuits with gravy and collard greens," John said. "There's parts of Georgia with huge Ethiopian communities, Vietnamese in Alabama … flavors that are part of the fabric in the American South and we're incorporating it to the menu in places where it makes sense and fits."
Clementine aims to be a neighborhood restaurant, which means prices will stay relatively affordable, and though "not vegetarian, or healthy," the eatery will feature a vegetable-forward menu with 20 or so items making the initial cut.
For neighbors and regulars who frequent the restaurant, or the extra-adventurous diner, a "Feed Me" option is available. The menu notes, "We all have days when we just don't want to make any more decisions. Or we need inspiration to try something new. Entrust Chef Russ with your dining experience and he will create a menu especially for you highlighting the flavors of the season. Starting at $48 per guest (the entire table should participate)."
"There was this restaurant back home called Tony Angello's where the staff would just feed you," John said. "It allows us to work with the menu and maybe offer some off menu things and beer pairings, that we want to share with guests in that kind of way."
Aesthetically, though once the home of San Antonio's first IHOP Express, Clementine is designed in part by architect (and Current contributor) Ron Bechtol, takes on a bright, cozy vibe. A large canvas mural hand-painted by tattoo artist Kelly Edwards will hang on one of the walls depicting a scientific illustration of clementines and oranges by Steven Noble (who also illustrated the Kraken rum bottle, "…and I used to invite him over for Dark & Stormies in Maryland," said Elise.).
Though no opening date has been set as of press time, John and Elise know they will be closed Sunday and Monday with lunch starting sometime after the San Antonio Cocktail Conference. Sadly, though understandably, they're still on the fence about brunch.
2195 NW Military Hwy., (210) 503-5121.