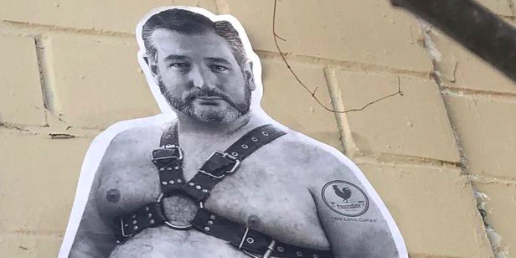 Twitter / @Jackasaurus3
A twitter user spotted this wall sticker of Ted Cruz on the St. Mary's Strip.
Sometimes nothing beats having a good laugh at pandering politicians and pompous preachers. Or so it seems, based on the
Current
's most-read news stories of the week.
Our top-trafficked story was one on Twitter losing its shit over a sticker depicting GOP Sen. Ted Cruz in bondage gear with a belly tat spelling out his allegiance to a certain group of right-wing insurrectionist thugs.
No. 2 was a piece about televangelist John Hagee getting a Fauci ouchie after telling his flock late last year that Jesus was the one vaccine that would fight COVID-19. Always good to have a backup plan, right?
Read on and see what else your fellow readers were filling their eyeballs with this week.
10.
Marielle La Rue started her niche denim line to fulfill a wish for pants that fit her body type
9.
Texas Republicans' bills to restrict voting aren't popular and would harm GOP voters, study finds
8.
San Antonio once again banning Easter tradition of overnight camping in city parks
7.
Texas Senate passes restrictive voting bill backed by Republicans including Gov. Greg Abbott
6.
Texas launches online COVID-19 registration system as scheduling frustrations mount
5.
Two more San Antonio-area residents arrested for participating in January 6 Capitol insurrection
4.
San Antonio native dies during last phase of elite U.S. Army Ranger course
3.
Diplo's San Antonio concert drew packed crowds despite being billed as 'limited capacity' show
2.
Assclown Alert: Pastor John Hagee said Jesus is the 'true vaccine,' but he got a shot in the arm anyway
1.
Giant sticker of Ted Cruz in bondage gear pops up on San Antonio wall and Twitter goes wild
Stay on top of San Antonio news and views. Sign up for our Weekly Headlines Newsletter.