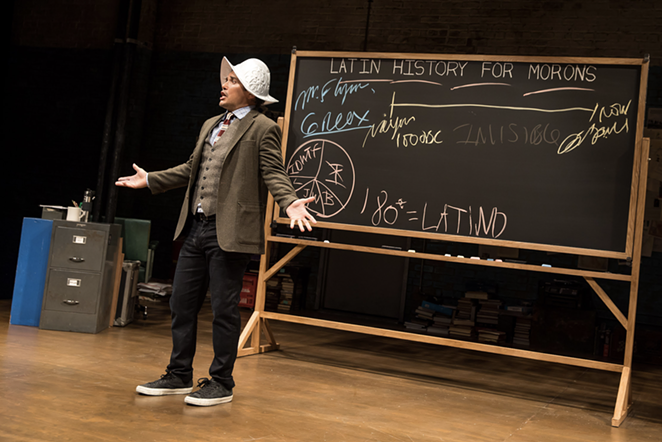 Not counting his role as a lispy megalonyx in the animated
Ice Age
franchise, actor and comedian John Leguizamo has reprised only one movie character in a sequel during his 35-year career — Aurelio from the 2017 action flick
John Wick: Chapter 2
. That's surprising, since a common reaction to seeing John Leguizamo in a film is to want more John Leguizamo. OK, so maybe we really don't want a Super Mario Bros. 2, but we're all in for a second helping of Chi-Chi from
To Wong Foo
.
Leguizamo gets a chance to jump back into a familiar non-screen role when he gives San Antonio fans an encore performance of his Tony-nominated, one-man Broadway show
Latin History for Morons
. Admittedly, he's playing himself, albeit a much more bookish version.
Latin History for Morons
, which sold-out its first show at the Majestic this past summer, features Leguizamo as a professor with a mission: to squeeze 3,000 years of Latin history into a single, 90-minute lesson — "from conquistadores to cumbia" and "Montezuma to menudo."
Make sure you're paying attention, or he just might send you to detención.
$39.50-$110.50, Monday, Dec. 2, 7:30 p.m., Majestic Theatre, 224 E. Houston St., (210) 226-3333, majesticempire.com.
Get our top picks for the best events in San Antonio every Thursday morning. Sign up for our Events Newsletter.