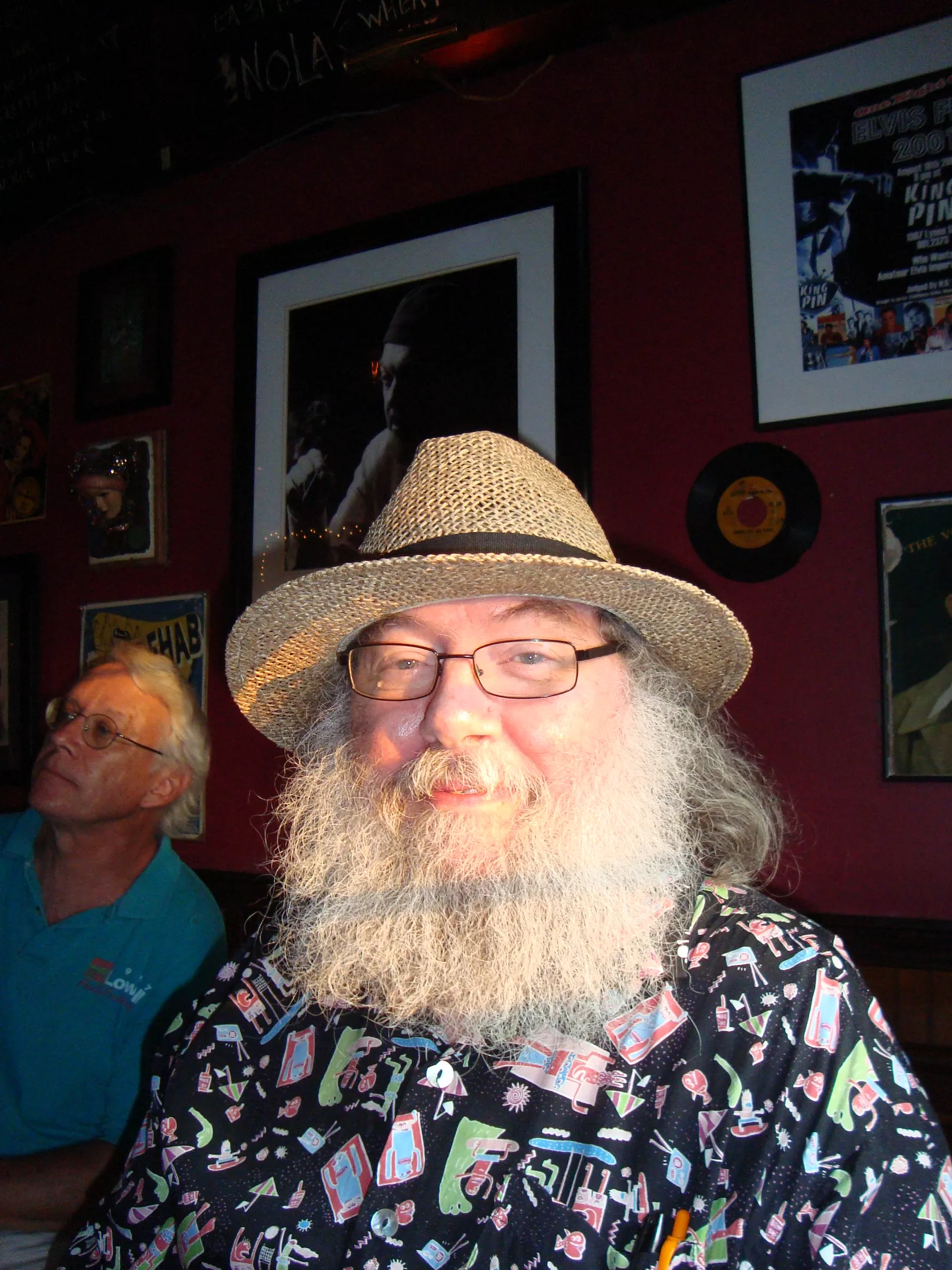 John Swenson, one of the deans of music journalism, is coming to town. The former Crawdaddy, Creem, and Rolling Stone editor (and current editor of OffBeat and a renowned sports writer) will be hosting a music writing workshop on July 21 (see info below). He'll walk you through an interview, read your writing, and tell stories of his accolade-filled career. Days before his visit, Swenson spoke with the Current from his home in New Orleans.
How is your workshop going to work? What should we expect?
I have no idea what the composition of the people who are going to attend the workshop will be. So I will definitely approach this on an individual basis. I have a few exercises that will apply to whomever might show up. I am going to talk about some history. I am going to demonstrate interview techniques with local recording artist Bett Butler, who is also a historian. There are two parts of the seminar that will take place during the day, and during the second part Bett is going to sit in and allow herself to be interviewed by the entire group. We'll discuss techniques for a successful interview during that process. But I want to keep this as open-ended as I possibly can and involve the participation of those attending the seminar as much as I can. The one thing that a one-day event will limit is how much I can review whatever writing people are interested in showing me. So what I am going to offer whoever is involved is a follow-up where they can either bring to the class what they want me to read of their writing, or they can email me later and I will offer them feedback on their work. In my ongoing capacity as an editor, you know, I am always looking for new writers. So, that might be part of it. To answer your question more specifically, it is going to be open-ended depending on who shows up.
After being in the business since the beginning of rock writing, do you agree that, except for some honorable cases, most music writing today is entertainment rather than journalism?
There is no question about that about. Certainly mainstream entertainment reporting has become almost entirely celebrity-based. This is a process that's been slowly going on since the '70s. However, I do think that the entire music industry and entertainment industry is going through massive changes that are precipitated by the democratization of the Internet; through blogs people are able to write some very interesting things. I mean, the downside to that is a) you don't get paid for that and b) it's a somewhat limited audience. But you know, it's still in its infancy. I think that the people who have something interesting to say have a forum to say it. Serious journalists aren't being paid for their work in the way they used to be. Unfortunately, we are reaching a point where being a serious journalist is something that you have to do in your spare time, while you have a day job.
What would you say are the most common mistakes new, young music writers make?
I think that biggest mistake young writers make is to fall in love with their words. Writing is a job, it's hard work. Revision is ... I may have known ony one or two writers in my lifetime who were automatic, that could sit down and write and never have to revise.
Anyone famous?
Well, Lester Bangs [widely considered the greatest rock critic that ever lived] was like that.
Who was the other one?
Oh, I would say it would be wire service journalist Bruce Olson. He ran the City desk at United Press International during the 1980s. But that was a specific type of discipline, writing wire service copy. It had to be written fast and he was a machine. Completely different from Lester Bangs. But I think that, for most people, writing is something that requires revision. You need to really work and hone the craft until you get everything right. I am sure you agree with me, being a writer yourself.
Totally. But, as you well know, one of the consequences of downsizing is that writers are busier than ever, covering more than one beat, and the turnaround is faster than ever.
Obviously I've had to write some things hurriedly. Downsizing only places more deadline pressure on a writer, and like any artisan writers have to weigh a tricky balance between speed and excellence. More pressure means more mistakes and less fully realized thought. Pausing for reflection shouldn't have to be a luxury, but unfortunately it has become one. One advantage of online writing is that it can still be edited after it's posted. But even then you have to have the time to go back and think about it.
Besides the writing part, there's the question of ethics. I am very anal, very old school about not accepting trips, taking photos with the people I write about, or hanging out backstage unless I really, really have to. But there are cases like Lester Bangs: he would accept a trip to interview the Clash, come out of the plane completely wasted, and then write an absolutely memorable piece about them. What are the limitations? What are the do's and don'ts of any serious music writer?
Well, certainly I don't think you should take junkets as a music writer. I have to admit I have done that, but it was a really long time ago and I never let it affect me. I don't think too many people are really paying their way into coverage. But, you bring up another point and that is that some people basically write about their friends. Now is this a matter of ethics or is it just a matter of being a fan rather than being a professional? That's a really open question. I think that the nature of the Internet coverage creates a situation where a lot of even some of the best writing about music is done by fans now rather than by objective journalists. So, there becomes a grey area at this point.
So taking certain ethical licenses are only really valid if you can write like Lester Bangs or people like that?
Well, only Lester could write like Lester. I think it's a big mistake to try to imitate that style. Everyone has to develop their own voice and Lester's voice was perfect for its time. But I doubt that Lester would still be writing like that today if he were still around. I knew him very well and I think he would have gotten tired of writing that way, personally.
Worst first questions in any interview.
"How did you start? "How you doing?" Probably not a good idea to start like that. Serious artists expect serious questions.
How important it is for a music writer to know music or to make music himself/herself?
Not important at all and, and here is why: I think it is a real fallacy for people who are music students or musicians to get too involved in the technical part of what they are writing about (unless, of course, they are writing for a technical journal), because the audience is not composed of musicians. So, they're not going to know what they're talking about. And I see this a lot, particularly with jazz writing, where the writing gets to the point where there are too many technical issues being discussed rather than aesthetic issues. For the most part, the general audience is interested in aesthetics rather than matters of technique.
From all the writers that I have read, it seems to me that only the late Robert Palmer (1945-1997) was the ultimate example of someone who didn't just know about Anglo rock 'n' roll and jazz, but he was well-versed in all sorts of music, from classical to World. Some people stick to one type of style and become experts in that field. Shouldn't everyone, not only writers but readers as well, listen to as many styles as possible?
I think that is a healthy thing to do. You've named probably my favorite writer in history in Robert Palmer, God rest his soul. What a tremendous thinker. Now, here is someone who was a musician and understood the technical aspects of music but also understood how to talk to a general audience about music and how to relate different styles across the differences between the styles. He could talk about jazz or rock or hip-hop, because he did write about early hip-hop. He could pretty much relate any kind of style to its root elements. Music is music. The one phrase that you'll hear from all the greats over the years is there's only two types of music: good and bad. Obviously, some people prefer a certain style of music. You know, Frank Zappa famously said that music, for most people, was a lifestyle choice like fashion.
He also said (and I'm paraphrasing) that "music writers are people who can't write, writing about people who can't play, for people who can't read."
(Laughs) Very well recalled on your part. Well, there have been a lot of people who are really just posers or masquerading as journalists, just pretending to be music writers. Anyone can declare themselves one, you know. There have been a lot of bad ones over the years. They tend to disappear, but that's why people like Frank Zappa built up such a poor opinion of them. Historically, the music industry has been a very big powerful money industry populated with very clever publicists who manipulated a lot of the writers who wrote about it, in ways the writers weren't even aware of in many cases. So this is a byproduct of this industry. You know, a lot of this hype is simply publicity and, you know, a lot of it was bought. I hate to single out Rolling Stonefor this because it was a thing that happened pretty much across the board, but certainly there were instances where five-star reviews were literally paid for in the magazine. So this is built-in, it is cooked into the stew. You have to be aware of that throughout the history of music criticism. — Enrique Lopetegui and Tori Sommerman
Gemini Ink presents: Music Journalism workshop with John Swenson
$70 (limit: 15 participants)
10am-3pm Sat, July 21
Gemini Ink
513 S Presa
(210) 734-9673
geminiink.org