Picture this: your alarm goes off at 5 a.m., you leap out of bed, into your workout clothes and hustle happily to your 50 minute, high-intensity, sweaty cardio class before going to work. Sound like a pipe dream?
What if we told you it's not. That it's possible to fall in love with your workout so much that even the coziest bed can't stop you from making it to class?
Intensity, inspiration and JOY are three components that make up a JoyRide Cycling class.
Inside a dimly lit room, our positive, athletic, spirited instructors take you on a journey up and down hills, through challenging sprints and calorie-torching intervals all to a curated playlist guaranteed to get your adrenaline pumping and head bobbing. But this isn't all they do. Inside the studio, you're part of a team and they make sure you know you belong. We celebrate each other's accomplishments, push each other and support each other. "We're stronger together" is often heard throughout class followed by hoots and hollers and the slap of high fives.
A low-impact workout, indoor cycling is FOR everyone. You're in control of your ride; you manage your resistance and your speed, our instructors are simply there to guide and motivate you, to connect with you, and to elevate your day. But don't take our word for it: "Having two babies in the last few years made getting back into shape daunting. I'm loving JoyRide, their program is addictive, what an endorphin rush!
"I also feel as though it's given me more confidence. Plus, each time I complete a workout I feel so proud about what I've accomplished."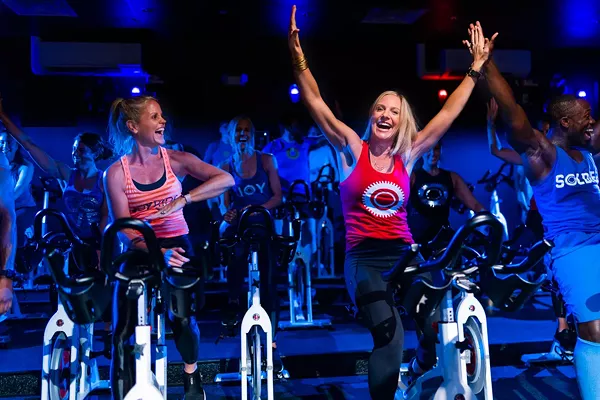 From a health and fitness perspective, indoor cycling improves cardiovascular function and endurance and decreases stress. Whether you are kick starting, resetting or looking to elevate your workout regimen, our high energy classes and tight-knit sense of community will increase the effectiveness of your workout, negate feelings of anxiety or depression, motivate you to push harder then you would alone, and create a bond; a feeling of belonging and accountability.
JoyRide is a lifestyle. When you choose JoyRide you choose to prioritize JOY in your life and practicing this in the studio ensures that it will trickle into every area of your life.
"I have been coming to JoyRide for several years now and I can never get enough! It's the absolute highlight of my day. The classes are not only challenging but the instructors create a motivating environment with great music that makes each class enjoyable and fun! I always leave a class feeling like I had a great workout. I have come to know each instructor and they're all unique, providing their own creative style for each class. What I love most about JoyRide is that I am not just a rider but part of a loving family whose kindness and friendliness is shown through the instructors and other riders. This is what makes JoyRide the best workout in town."

JoyRide Texas has packages to suit every need, you can purchase class packs or unlimited monthly memberships, they offer discounts for Military and with back-to-school right around the corner, teachers and students can purchase discounted packages as well: Teachers: $125 Unlimited Monthly (25% Off!) Teen/College Series: 1 class for $15, 5 for $70, or 10 for $137.50!