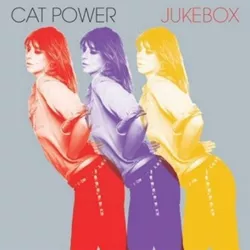 Jukebox
Composer:
various
Conductor:
Cat Power
Label:
Matador
Release Date:
2008-01-23
Rated:
NONE
Media:
CD
Length:
LP
Format:
Album
Genre:
Indie Rock
It's fitting that Cat Power's new album, Jukebox, includes a cover of the old George Jackson track "Aretha, Sing One For Me." Although Cat Power, née Chan Marshall, sounds nothing like Aretha Franklin and can't begin to compare to her as an artist, they share a key similarity: When they get their hands ? and larynxes ? on someone else's song, they inevitably reshape, redefine, and take possession of it.

When Franklin attempted "I Say a Little Prayer," it became an authentic gospel song, and Dionne Warwick's original version felt like a wan demo next to it. When Cat Power opens Jukebox with a sultry, Southern Soul deconstruction of "New York, New York," you quickly forget that Frank Sinatra and Liza Minnelli ever recorded it.

Cat Power attempted an album of remakes once before, with 2000's accurately titled The Covers Record, and strictly speaking, Jukebox isn't a covers album, because it includes one new original ("Song to Bobby") and a reworking of an old Cat Power song ("Metal Heart"). But this album is clearly meant to demonstrate Cat Power's growing assertiveness as a song interpreter, and since she's always been a more commanding singer than songwriter, the album feels more like a relief than a retread.

As on The Covers Album, Cat Power demonstrates unerring taste in material, veering from Billie Holiday ("Don't Explain") to obscure northern Mississippi blues great Jessie Mae Hemphill ("Lord, Help the Poor and Needy"). Her Memphis flirtation with The Greatest yields fruit with a gender-switch cover of Hank Williams' "Ramblin' Man." A million miles from Hank's lost highway, this track rides a moody, deliciously retro electric-piano groove into Muscle Shoals territory.

She stumbles seriously only when she tackles Bob Dylan's born-again ballad "I Believe in You." The Stonesy crunch of this arrangement doesn't fit and she never gets a vocal handle on the tune. She quickly rebounds, however, with "Song to Bobby," a musical thank-you letter to Dylan, obviously modeled on Dylan's own Woody Guthrie homage, "Song to Woody."

Built on a simple, alluring folk melody, "Song to Bobby" has a slightly creepy, discomfiting feel about it (particularly given Cat Power's public admission that she'd gladly make a baby with Dylan), but, then again, Cat Power would be nothing without a little discomfiting creepiness from time to time.
-Gilbert Garcia