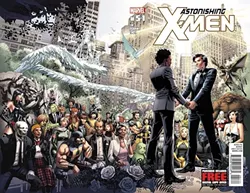 In the Marvel Comics issue of
Astonishing X-Men Northstar
 a homosexual mutant betroths his true love.
via
"When I was a teenager, I always felt different from everyone else. Like I didn't quite belong with the rest of the crowd. I felt that maybe I didn't even belong here and that the rest of world might never know the real me."
Do those lines sound like something out of 2013's Man of Steel or maybe this year's X-Men: Days of Future Past? Maybe. And they easily could be words spoken by Superman or Mystique. But they were actually written by me as part of a journaling exercise I did when I first came out as gay, nearly 10 years ago. But the LGBT connection to comics isn't that far of a stretch.
As local gay comic book aficionado Andrew Arguijo explains, the X-Men story in particular resonates with gay rights. "In the original film, the tagline was, 'protecting those who fear them.' Director Bryan Singer [who is gay] was not a comic fan, but he saw the connection to queer culture in terms of a minority group searching for acceptance and trying to coexist in a sometimes hostile world."
There's a large LGBT subculture of people who geek out about comic book culture. And there may be some very specific reasons why the world of superheroes and villains appeals to the LGBT demographic.
1. They want to both fit into and run away from a world that barely understands them.
Comic books embrace the art of the disguise as a necessary device—the ability for the hero or heroine to be "normal" when it suits them or superhuman when the need arises, often with the use of a mask or other costume. The secret identity allows the character to flourish when his or her plain or human identity is hidden.
There are some interesting paradoxes that arise in these situations—when is Batman most himself? When he's Batman or Bruce Wayne? Which is really the disguise: the version everyone sees plainly or the one who's all dressed up and ready to fight? This isn't that different from an LGBT person who sometimes feels that they have to hide their orientation or gender identity.
On another level, let's apply this situation to drag performers. If you've ever been to drag show and then met the performers in plain clothes later, there's a vast gulf that often lies between the frequently audacious and outspoken queen and the sometimes quiet and unassuming man underneath. I've often wondered which identity they see as their true selves.
Jennifer Lawrence as gender-shifting mutant Mystique in
X-Men: First Class
2. Beyond simple disguises, they often have the ability to shapeshift, genderbend or gender non-conform.
While some comic book characters are able to put on a simple disguise, others possess more extraordinary powers and are able to morph into someone or something completely different. In particular, there's Mystique, a shapeshifter and a perennial hero/villain who finds it difficult to fit in even among her own kind.
Madison "Mattie" Mauricio, a local makeup artist and aspiring writer, is transgender and identified strongly with Mystique growing up. "I knew who I was from early on. And even though the world saw me one way, I was someone else entirely inside. That didn't mean I had blue skin and cat-like eyes, but I knew the 'real me' wouldn't be accepted by others because it was different than the 'me' they saw."
"Mystique can shift into different genders, of course, but the person she often showed others fit their expectations of 'normal.' Inside, she knew she wasn't that person, and that even people close to her who said they loved her, like Professor X, didn't like to see her real self—that's the situation transgender people face every day."
Kryptonian criminals General Zod and Ursa use Lois Lane to bend Superman.
3. They don't always get along with others of their own kind.
In the comics and in the films, Mystique finds herself often switching allegiances or even going out on her own because she can't fit in anywhere. Sometimes this has to do with people not accepting her for who she is, but sometimes it has to do with the manner in which various groups fight for mutant rights. This parallels with those who work for LGBT equality.
Different groups often have wildly varied ideas about how to work towards issues like marriage equality, employment non-discrimination or access to healthcare. In the history of civil rights, the work for minority rights has always meant working with the majority group, and some groups work more benevolently with the majority than others. Think Superman and General Zod fighting over their interaction with and treatment of humankind. 
Ian McKellen, himself gay, as Magneto
4. Their plight is as universal as it is specific.
 The thing about comics that appeals to people from all walks of life, especially teenagers, is pretty simple: feeling different and feeling like the rest of the world doesn't understand you. This is one of the most universal themes there is, which is why it works so well, even in native comic book culture. Magneto was an outcast because he was Jewish in Nazi Germany, Wolverine because of his temper, Professor X because he is disabled and even Superman because he's kind of a goody two shoes in a corrupt world.
Comic books have always used human differences to parallel superhuman differences. It just makes for richer storytelling. In recent years, both new and old characters have come out in printed comics as gay. In 2012, the X-Men series even featured a gay wedding between the openly gay superhero Northstar and his partner Kyle. Northstar first came out in 1992.
Ian McKellan, who plays Magneto and is himself gay, told the U.K.'s Channel 4 that he took on the role because Singer explained, "As a gay man, you can identify with mutants—people who have talents, are remarkable people, but are despised by society as they're different." Singer even staged a "coming out" scene in the second X-Men film where Bobby, aka Iceman, tells his parents and little brother that he's a mutant. Everything about the scene looks like a gay man coming out to his family.
And despite all these parallels, we have yet to see an openly gay superhero onscreen. In some ways, then, the saga for acceptance continues.