Photo by Siggi Ragnar
Central Library
On July 14, the folks behind
K23
, via their new non-profit productions venture
Purple Bottle
, are hosting a rad psych-rock show at an unlikely location: the
downtown branch of the San Antonio Public Library
, aka The Enchilada.
Local proto-freakbeat/psych-muck act Sunjammer will open for Austin psych-rock dynamo Holy Wave at the special, all-ages affair.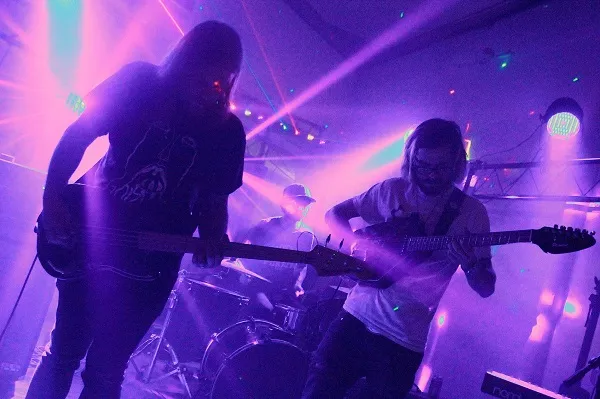 Photo by Wayne Holtz
Holy Wave performing at K23 Gallery.
In terms of sheer level of dramatic irony alone, this rock show in a space that is associated with noise restrictions and quiet fits right in with Gem and Glenn Hotvet's quest to program gnarly concerts in non-typical spaces.
In an email, Gem Hotvet said that the Library folks have been "pretty keen on the idea," noting slyly that "you really would be surprised by what you accomplish when you ask nicely."
Between this, the
Planetarium concert series
, and the upcoming
Psych del Rio
at Arneson River Theater, it would seem that asking nicely is indeed panning out quite, well, nicely for the husband and wife duo.
About the library show concept, Hotvet explained: "Our public library downtown is an architectural masterpiece. So many San Antonians have a personal relationship with this library, I know I do. It makes us proud that we can utilize such a unique and beautiful space. Of course, the allure of being able to rock out inside a traditionally hushed space isn't lost on us."
In general, she said that the pairs' mission with Purple Bottle is to "raise the bar" in terms of live music, and to "utilize some of the fantastic and unique venues that we have here in our city."
Hotvet said that with Purple Bottle, as with all K23 endeavors, they "will continue to present music with the same level of respect and attention to detail as any other fine art." She continued, explaining that to her "music is definitively THE form of expression for our culture and there is no overstating its importance to our generation and every generation before."
Be sure to
snatch up your tickets to this one online
(they won't be available at the door) and quickly (they'll sell out soon).
Holy Wave, Sunjammer at The Enchilada
$16.00, 6pm, Fri, July 14, San Antonio Public Library, 600 Soledad, k23.ticketbud.com.