Photo by Linda Romero
Wizard World's convention-on-wheels came to the Alamo City over the weekend, bringing some big name celebrities and interesting panels, albeit a lackluster showroom of vendors, for its three-day event.
On Friday afternoon, I spoke with con-goers lined up in the Henry B. Gonzales Center about who and what they were looking forward to seeing at Wizard World. Diana Gutierrez and her family of five came to see Jason David Frank, the Green Ranger from Mighty Morphin Power Rangers. Lacey Cotton of Windress Cosplay, cosplaying as Ms. Marvel, was excited to see Alan Tudyk (Serenity, Firefly) and comic book legend Neal Adams.
Wizard World brought a fair share of famous actors, including John Barrowman (Arrow, Torchwood), William Shatner (Star Trek), Michael Rooker (Guardians of the Galaxy, The Walking Dead) and James Marsters (Buffy The Vampire Slayer, Smallville). During their panels, Tudyk and Marsters hilariously answered questions from the audience, shared stories about being on set, and politely avoided questions about future projects.
However, as delightful as these celebrities were, no panel that I attended compared, in sheer madness from fans, to the Fam Tour: Hayes Grier, Nash Grier, Cameron Dallas, and Carter Reynolds.
On Saturday morning, hundreds of tweens girls shrieked almost non-stop for 45 minutes over these "tweenage" Vine comedians. Throughout the panel, girls raced through the aisles to get close to the stage. They held signs and confessed their love. As the girls asked questions, these boys often gave barely audible, silly answers. At one point during the session, one of them even took apart his microphone.
Like so many other girls, Ajah Monae Montalvo, 13, stood and cheered throughout. "I'm on Team Hayes," she said after the panel.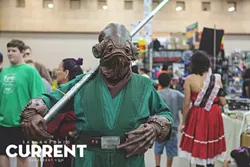 53 Photos of Super Fantastic Cosplayers at Wizard World
Other convention panels maintained a more subdued atmosphere. Comic book writer and lecturer at the University of Kansas, Jai Nitz (Dream Thief, Toshiro) discussed numerous aspects of the comic book industry including iconography, script writing and common mistakes new comic book creators make. Another panel focused on the adventures of Terry and Oliver Holler driving across the country in a replica of the Back to the Future's DeLorean to raise awareness about Parkinson's disease. There were also cosplay panels and a special effects make-up tutorial.
Though the showroom was always crowded and busy, vendors were lackluster. Many sold second-hand comics out of small booths. Only Dragon's Lair Comics and Fantasy made an appearance at the convention, while the other half dozen comic shops in San Antonio were absent. One booth sold replica lightsabers, and a few others had novelty t-shirts in stock. Unfortunately, the showroom had a very "flea market" feel to the place. Considering this was Wizard World's first appearance in San Antonio, one hopes they amp up their showroom when they roll through town next year. No word yet, though, on whether or not they return.