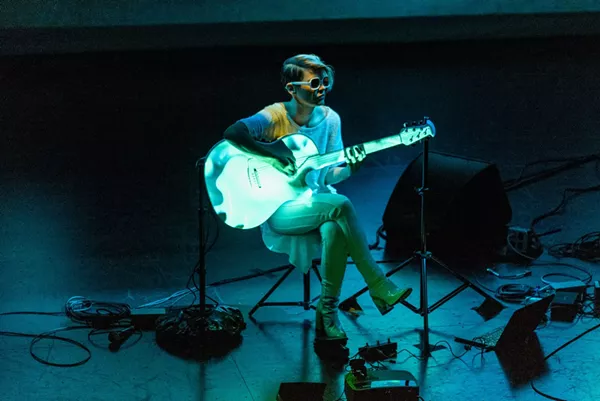 The first time I was able to witness the gnarly shredding of guitar god, Katherine Elizabeth King, better known as Kaki King, was almost 10 years ago up in Austin during a 2008 tour with indie folksters, The Mountain Goats.

When I heard she was coming back to Texas, and to our own Tobin Center no less, I might have peed my pants a little out of excitement because, to put it bluntly:
King fucking shreds.
And not just shredding for shred-sake – King's ability to narrate emotive journeys through her guitar while demonstrating technical finger work is refreshing, inspiring and incredibly entertaining to watch.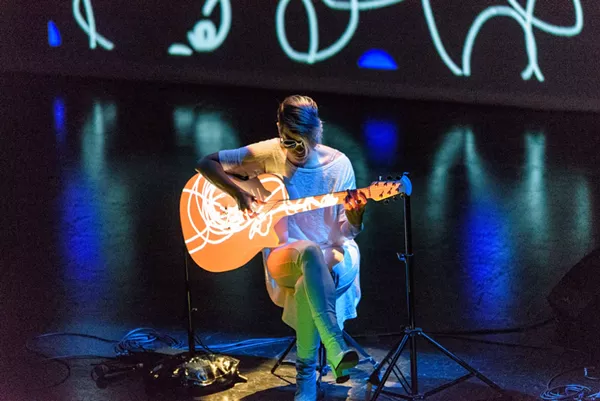 About 100 to 150 people piled into the Carlos Alvarez Studio Theater at the Tobin Center Friday night for an evening that was memorable and arguably unlike anything many of us had ever seen. King's show, "The Neck Is A Bridge To The Body" (also the title of her 2015 album) is sort of art installation meets live performance meets laser light show, which I get sounds a little weird if you weren't there.
Donning white shades and an all white outfit (yass, queen – work), King played through her hour-long performance as her white Ovation guitar stood stationary (held up by two stands), and a projector launched images over the neck and body of the guitar, as well as the massive projection screen behind her. The images, which included a mix of random shaped graphics, multicolor squiggly lines, and footage of what looked like New York, danced across her guitar complementing the pace and overall mood of each song.
After her hour set, King got up and joked, "Congratulations San Antonio! Most songs played during this tour without any clapping!" invoking laughter from the audience and applause. It was true though, even though I think we wanted to clap after each song, the art installation vibe of the whole experience made us a little uncertain of how to respond.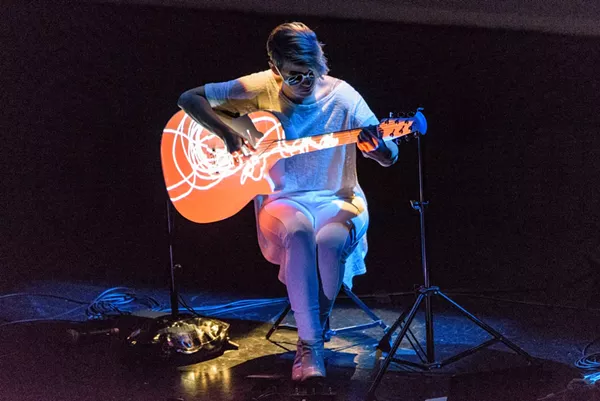 During a quick Q&A before she closed with her hit "Playing With Pink Noise" off her 2004 album Legs to Make us Stronger, I asked her if she ever got distracted by the projections lighting up across her guitar, to which she responded "No, they actually keep me on time," explaining that the projections were actually indicators for letting her know where she should be in a song.
While exiting, I couldn't recall a single show that I've been to that I could compare to "The Neck Is A Bridge To The Body." What I do know, and witnessed, was an artist unabashedly exploring her instrument and creative spirit, through the use of lights, color and sound for a one-of-a-kind concert that I urge everyone to hopefully experience one day.

And you just might be in luck. King will be playing Austin Saturday, September 16 up at the Long Center in Austin. It'll be worth the trip, I promise.