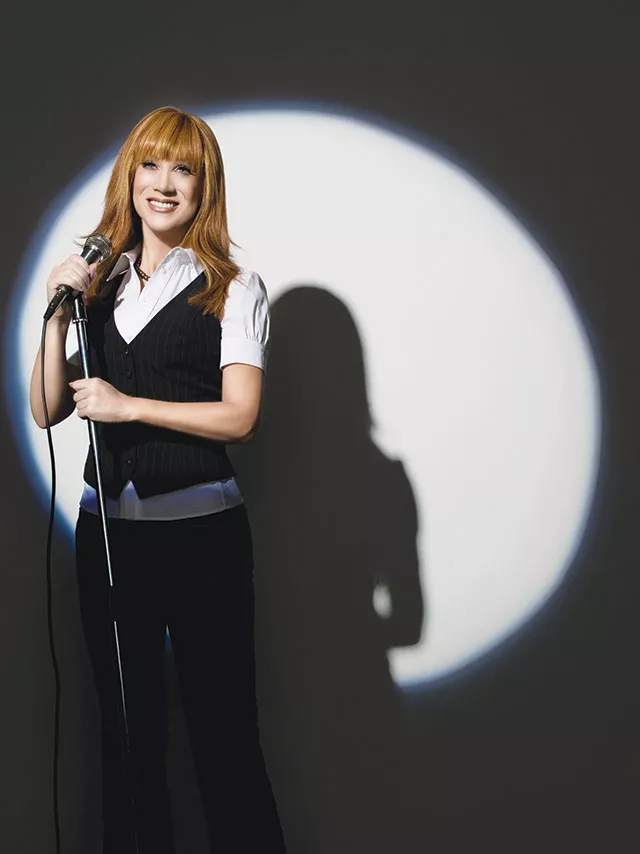 The idea of a Q&A interview with Kathy Griffin seems kind of disingenuous, because Griffin, former reality star (Bravo's My Life on the D-List) and current reigning queen of celebrity shit-talking, has made a living answering questions you never asked but wished you thought of: what's Barbara Walters' favorite brand of lubricant, for example. She definitely sets her own agenda in a conversation, but—as her autobiography (2009's Official Book Club Selection), which chronicles her battles with an eating disorder, her suspicions that her older brother molested children, and the horrific aftermath of a liposuction procedure, just to mention three chapters, clearly indicates—Griffin will offer up the juiciest info unprompted if you just keep your damn mouth shut. Griffin will be recording her Guinness Book of World Records-setting 20th comedy special at the Majestic Theatre this week. We talked to her on the phone about it, but to be honest, we mostly just tried to stay the hell out of her way.
How do you generate enough material to have 20 stand-up specials?
Well, first of all, I have what I call Stand-Up Comedy Disorder which is I cannot stop doing stand-up, I love it so much. My mind works 24/7 about what could be funny for the audience; what they're into. I just feel like this environment that we're living in is the gift that keeps on giving. When I started doing stand-up I would talk about my family and horrible dates I'd had … Now everything is so out there—from Justin Bieber showing himself doing ridiculous things and CNN's 24-hour news—[and] you can find 24-hour celebrity trash pretty much anywhere … We're all so aware of what these people are doing, and I think the more access we've got, celebrities start behaving even worse … I can't get to the microphone fast enough. I always have the same problem when I do these specials. I do an hour and a half to two hours and they have to somehow cut it down to an hour. So I actually have the opposite problem that I should, I have too much material and then the buyer, in this case Bravo, they have finally [got] to draw the line and say "OK, we can't leave this in, even you have gone too far."
Is there a common theme of material that a network will cut?
I've had a couple jokes cut by Bravo because they were too offensive, but I still do them live. Thank God for live entertainment, no matter what's happening in the changing landscape of television and how we view media and all those conversations, nothing can replace the live experience. So, let me tell you, if you come see me on November 24th, you will see the no-holds-barred, politically incorrect, inappropriate material that any network will say "that's too far." That's my goal, my goal is to go too far.
Does the internet change how you do comedy—like with Miley Cyrus' VMA performance that has been done to death?
I'm always thinking, "what can I say that hasn't been said?" What I bring to the table is my take, that is, telling it through the perspective of my mom, halfway through a box of wine. That's a take we haven't heard yet. I always have to keep abreast of what has legs, what's a story that's going to fade overnight and once again, I will infuse that story with my own run-in with Miley: the last time I saw her, our last conversation. That way it's something no one else can comment on because it's an experience that happened just between the two of us. But I will be honest and say, I'm checking my iPad or my phone up to the minute I go on stage to make sure no one I'm talking about has died between 6 and 8 o'clock.
Do you find famous people changing their behavior around you?
Yes! I ran in to John Mayer recently at this tribute to Don Rickles and I felt that he kept distancing himself from me. I have had other celebrities make the sign of the cross with their forefingers in order to try to exorcise me, like I'm Linda Blair in The Exorcist. Yes, I am used to celebrities coming up to me saying "don't put me in your act," and I don't make those kind of deals. I just can't do it because they're not the boss, the audience is.
Kathy Griffin
$58.60-$80.30
7pm & 9:30pm Sun, Nov 24
The Majestic Theatre
226 E Houston
majesticempire.com