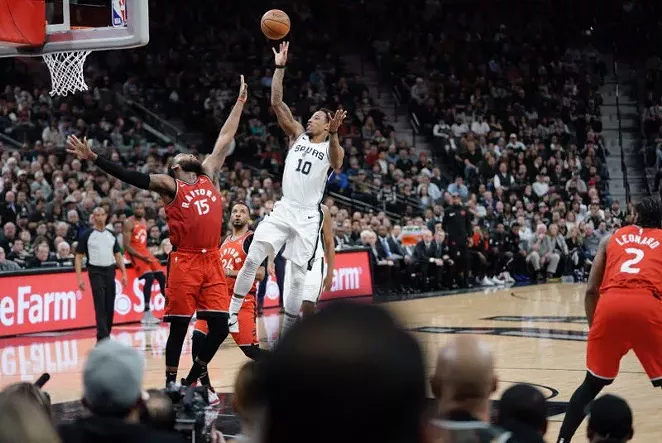 Twitter / spurs
While many eyes were on former Spur Kawhi Leonard, DeMar DeRozan recorded the first triple-double of his career.
Heading into Thursday night's clash between the Spurs and Raptors, much of the talk centered on whether San Antonio's fan base, regarded among the classiest in the league, would cheer or jeer prodigal son Kawhi Leonard.
At a pre-game shootaround, Leonard remained reticent to discuss the circumstances surrounding his departure, even while recalling his tenure with the Spurs as meaningful.
"I put up blood, sweat, and tears wearing that jersey," Leonard told assembled reporters. "It means something. I put a lot of work here."
Inside the AT&T Center, the atmosphere pulsed with energy more akin to a prizefight than a January NBA game. When Leonard took the floor to warm up, he was greeted with thundering boos that echoed throughout the arena. During a tribute video that ran just before player introductions, alternating waves of boos for Leonard and cheers for former Spur Danny Green cascaded through the crowd.
After tip-off, Leonard was relentlessly booed every time he touched the ball, and after an initial basket to quiet the crowd, appeared slightly out of sync. The Spurs responded to the playoff-like intensity by closing out the first quarter with a 38-19 lead and never looked back. When Leonard was serenaded by searing chants of "traitor, traitor" in the second quarter, the contest felt surprisingly out of reach for the Raptors. Leonard finished the night with 21 points and 5 assists in a 125-107 defeat at the hands of his former teammates. LaMarcus Aldridge paced the Spurs with 23 points and DeMar DeRozan recorded the first triple-double of his distinguished career.
"It's always easy when you've got great guys around you that are willing to learn," DeRozan said after the game. "This is a great group of guys that is willing to sacrifice whatever they need to for the next guy. When you have a team like that, karma definitely will be in your favor."
DeRozan returns to Toronto for the first time as a Spur in February, where he will likely receive a warm reception.
On what may be the most surreal night in Spurs history — where a one-time Finals MVP was greeted with derision previously reserved for Lakers named Bryant and Fisher — San Antonio fans perhaps found some closure.
"I felt badly about it," Spurs coach Gregg Popovich said. "Kawhi's a high-character guy. We all make decisions in our lives, what we're going to do with our futures, and he has that same right as any of us."
Stay on top of San Antonio news and views. Sign up for our Weekly Headlines Newsletter.