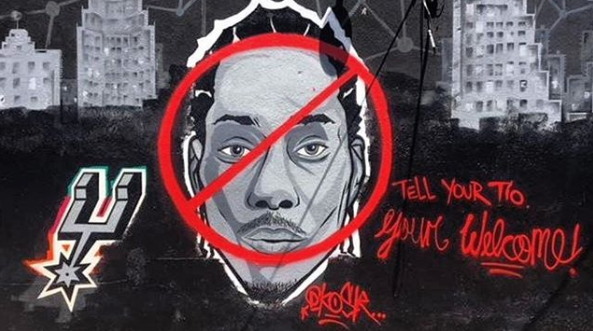 Just days after longtime Spur Tony Parker
wrote a goodbye letter
to San Antonio and the Spurs family, ex-Spur Kawhi Leonard has done the same.
Except we're not in our feelings about Leonard's letter.
Here's the sitch: Parker published his goodbye letter in The Player's Tribune on Monday, exactly a month after he signed with the Charlotte Hornets. Just three days later, Leonard reportedly did the same – kind of. According to a report from Yahoo Sports, Leonard released a statement thanking the Spurs franchise and San Antonians, making it his first official statement since he was
traded to the Toronto Raptors
.
Yahoo's Shams Charania tweeted the statement early Thursday morning. The statement looks like it was typed in the 2003 version of Microsoft Word, complete with purple Times New Roman letters.
He opens his letter with an apparent nod to the drama that happened this past season.
"I have been going back and forth the last few weeks trying to figure out the right things to say, and it comes down to two simple word: THANK YOU!" Leonard wrote.
He says he and his family (re: Uncle Dennis) want to thank the Spurs organization and "the people and fans of San Antonio." Leonard gives a shoutout to his teammates "over my seven years in the NBA."
"THANK YOU Pop I'll always be grateful for my growth under your guidance," Leonard wrote.
He also thanked the fans (again).
"There is not a more passionate or dedicated fan base than what I've witnessed in San Antonio," he wrote.
"Through all the ups and downs – I'm glad there were many more ups! – I'll never forget what we have shared and accomplished together," the letter reads. You mean like – I don't know – a championship?
Before saying one final thank you, Leonard says, "I'll always remember the city and the people of San Antonio."
And in the few hours since Charania shared the letter, there have already been plenty of petty reactions.
Kawhi's agent: Kawhi, we have to write a statement now that we're in Toronto

Kawhi: Just write the most generic stuff and repeat THANK YOU fifty times

Kawhi's agent: pic.twitter.com/1iTdbvfWqi

— Deven (@devdam2021) August 9, 2018
That's class... 3rd grade remedial writing class.

— 💻🏈Technical Todd🏈💻 (@textodd) August 9, 2018
Purple Times New Roman. Beat that, Dan Gilbert…

— ✫ wince84 ✫ (@wince84) August 9, 2018
Thanks to that someone who wrote this for Kawhi. Save it, you might use it again after 1 season.

— Harper 🌏 (@Harperblammo) August 9, 2018
THANK YOU Kawhi for sitting out an entire season pretending to be injured and acting like an 8 years old child. THANK YOU again

— Dimitrije Kulak (@DKFreq13) August 9, 2018
Stay on top of San Antonio news and views. Sign up for our Weekly Headlines Newsletter.