Leaving a house show around 2 a.m., I'm struck with that late night/early morning craving for terrible fast food. And since Jack in The Box seems to be the only option (I know, ew, gross), my friend and I pull into the drive-thru to order our greasy snacks. Waiting for our combo-number-whatevers at the second window, a huge white truck pulls up behind us blaring his radio and singing along to none other than P.O.D.'s "Youth Of The Nation." My friend and I snap videos of ourselves ironically lip-syncing and rocking out to the 16 year old jam (seriously, dude was blasting his radio) before driving off with our sacks of grease.
Now, granted, I definitely owned that particular P.O.D. album back in the day. (Who didn't?) And whether or not the driver of that white truck was listening to a radio station or Spotify, the reality is this: Mainstream radio in San Antonio loves to bombard us with '90s alternative rock and nu-metal — which, as of late, has started to elicit some interesting reactions.

It started out as some light-hearted ribbing from people in San Antonio's indie music community, directed at none other than SA's ambassadors of rock — 99.5 KISS FM.

A Facebook group called "99.5 Kiss Sucks San Antonio" eventually emerged, giving people who share a common distaste for the station's playlist a forum to express their anger and frustration, usually through the posting of hilarious memes.

https://www.facebook.com/995KISSSUXX/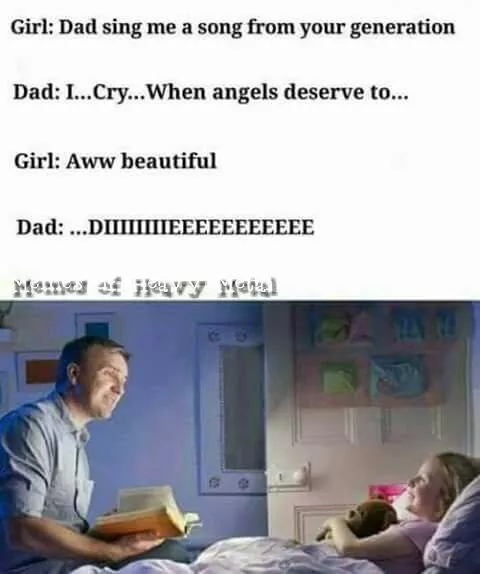 https://www.facebook.com/995KISSSUXX/

Of course, Gem Hotvet's not a Kiss 99.5 fan. Hotvet and her husband run the DIY venue K23, a music space that houses mostly weird indie, psych-rock and punk bands just north of downtown. She noticed the station's Twitter feed was mostly just asking — no shit — what Bush or Green Day song people wanted to hear on any given day. Hotvet had some of her own suggestions, like Uncle Acid And The Deadbeats or even something more two-thousandy and mainstream, like The Yeah Yeah Yeah's.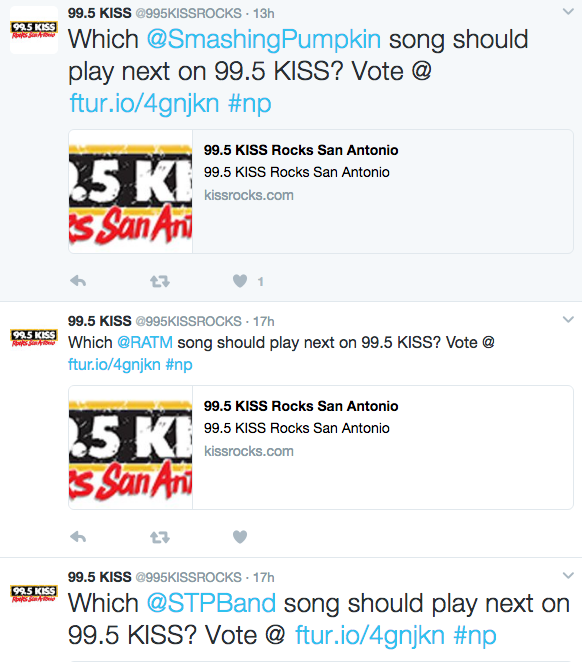 The response wasn't exactly what Hotvet expected — the station blocked her. In fact, she says it blocked a bunch of people who'd eventually join the "KISS Sucks" Facebook group and had started tweeting their playlist suggestions at the station.



Cox Media Group, the company who owns the station, lists 99.5 as having an "active rock" format — which apparently means rock music that's too light for metal stations, but too hard for contemporary or indie lovers. So 99.5 generally leans towards grunge and alternative 90s rock. Basically, it's like rock 'n roll purgatory.

So how much is our city's collective musical identity tied up in the kind of music KISS 99.5 proudly blares all day every day? Well, clearly a pretty big chunk of it, considering KISS is the fifth most listened to station in San Antonio, and the city's highest rated rock station. Or consider the fact they still throw huge music festivals like the River City Rock Fest — which this year features a lineup of Godsmack, Papa Roach and Buckcherry.

Then again, this city's musical identity is multifaceted. It's the city of Doug Sahm and Santiago Jimenez, the home of rappers like Milli Mars and young guns like Kree 23; or, for that matter, bands like The Grasshopper Lies Heavy and Pinko. It's a city that produces weird avant garde and throw-back industrial acts like Wolf Party and Mutant.

If this little KISS tiff shows us anything, it's that there are clearly some people here who are still working to reshape that identity, mostly the kind of young people who frequent K23 and go to house shows and hang out at Paper Tiger and Ventura.

You know, the kind of people who will give us options besides Godsmack.