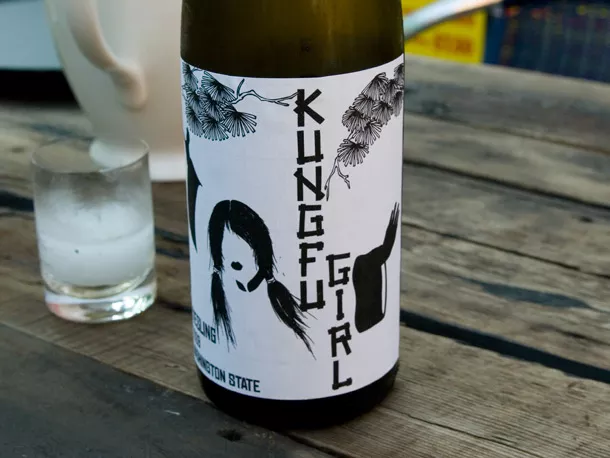 Courtesy
Pacific Rim's Kung Fu Girl Riesling
This is not news: Wine lists (if there is one) at most Mexican, Indian and Thai restaurants, well, mostly suck.
So what's a spice-seeking, wine-loving diner to do? Keeping Tabs is here to help with a few simple guidelines for at-home and BYOB options (all widely distributed and $8-$19 in price), the first of which is this: ditch the subtle wines. Ditto those that are ruthlessly bitter or over-the-top alcoholic, which rules out a lot of Bordeaux and most – not all – of California.
Let's start at an obvious point, considering our hometown: Mexican food. It isn't monolithic. But there are some common threads running through many dishes. For those with lime, cilantro and maybe a little serrano, think sauvignon blanc. Its citrusy, grassy qualities will play well with, say, a ceviche. Fortunately, there are lots of options under $15. From California, look for widely available bottles such as Bogle or Dancing Bull. From Chile, seek out the likes of Veramonte or Cono Sur.
An even more flexible wine for Mexican food, especially as the spice level ratchets up, is the off-dry chenin blanc. A personal go-to is Pine Ridge's appealing Chenin-Viognier blend out of California, but South Africa is another good source. Look for Secateurs, Mulderbosch and the cheap but dependable MAN Vintners.
The closer we get to the border with its ancho chiles and comino, the more appealing spicy red wines such as almost any zinfandel, shiraz/syrah and Cotes du Rhône begin to sound. From Australia, look for shiraz such as Oxford Landing or Layer Cake. Syrahs from California and Washington State also rock. Some to consider are Barefoot, Smoking Loon and Hogue Genesis. From the Côtes, which blends syrah with other grapes such as grenache, dependable names include Perrin, Guigal and Chapoutier's Belleruche. Another fave for the price is Jaboulet's Parallele 45.
Some of the same suggestions above apply equally to other cuisines. The earthy syrahs and blends get downright frisky with the pungent spices of Indian and Pakistani food — think accents such as cardamom and cinnamon. With the more aggressively hot food coming from Thai (and some Chinese) kitchens, we need to go back to whites such as riesling. The residual sugar that many of these wines have is good against spunky spice, and their low alcohol content means the wines will be more refreshing. Gulpable, even. You may think Germany, but why not keep it in the U.S. and look for bottles coming out of Washington (Kung Fu Girl, Pacific Rim) or New York (Ravines, Dr. Konstantin Frank)?
For those with the "keep it simple, stupid" mentality, here's a one-bottle-fits-all solution: bubbly. Even the pink stuff. The slight sweetness of bottles labeled sec/seco/secco does its usual magic, the bubbles engage in a little mano-a-mano with the spice and everybody wins.