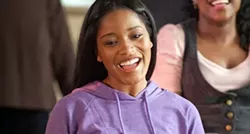 When actress/singer Keke Palmer received the script for her new movie Joyful Noise, it was almost like the role was written specifically for her. Not was it the first in her career that gave her the opportunity to do a whole lot of singing, the actual character hit really close to home.
In the film Palmer plays Olivia Hill, a talented church choir member whose mother (Queen Latifah) is put in charge of leading their group to a national competition.
"I grew up in the choir and my mother was a choir director as well," Palmer, 18, told me during an interview last week. "The whole theme of the movie was very similar to my story. When I heard about it I immediately wanted to jump on it. I was like, 'I have to do it!'"
Originally from Harvey, Illinois, Palmer rose to prominence in 2006 with the lead role in the drama Akeelah and the Bee opposite Laurence Fishburne and Angela Bassett. Along with her movie career, Palmer stars in Nickelodeon's True Jackson, VP, a sitcom that makes her the fourth highest paid child star on TV.
During our interview, Palmer, who plans to release a new album this year, talked about why gospel music fans aren't going to be the only ones that will like Joyful Noise and why she plans to focus more on her recording career this upcoming year.
"Joyful Noise" hits theaters Jan. 13.
I'm not necessarily a big gospel music fan, but the soundtrack here is wonderful.
Yeah, the movie isn't necessarily geared for people who don't have a million gospel songs on their iPod, but when you go to the movies you can have a good time. That really means a lot to me. That says a lot about the film.
The gospel rendition of Michael Jackson's "Man in the Mirror" was great. What did you think about covering the song?
I was really happy and excited and nervous about it because it is a Michael Jackson song. No one can do Michael like Michael can. I just thought I would go in there and give it my all and put my own little spin on it and have a good time. Ultimately, I ended up happy with the outcome.
What is it about gospel music that you like?
Whenever I listen to gospel music, I just feel like the singers mean everything they're singing. Of course, you can feel that sometimes in other genres, too, but for some reason in gospel you feel so much love and heart in what is being sung.
Would you ever incorporate gospel into the music you record?
Well, it's not like I have a million gospel songs on my iPod either, but at the same time I do love gospel music. I love Marvin Sapp, Mary Mary, Kirk Franklin, Smokie Norful and I do have their albums. Personally, I might do a gospel album later in my career. But my main genre of music is R&B and pop.
But there is definitely a gospel influence in R&B, right?
Definitely, gospel music has a major influence in what R&B is today. It's almost a mix of gospel music a blues music that make today's R&B sound. Listen to someone like R. Kelly and he embodies that. It's the same thing with music producer Teddy Riley and what he does with his artists.
You've worked with Queen Latifah before. What is your relationship with her off the set?
She is a really nice person. The first time I worked with her she was so kind to me. Every time I saw her after that, like a premieres, she would always remember me and say hi. I was excited to get to know her even more on a personal level during this film. She was just as welcoming as before.
Is it easy for you to prioritize between what you want to do as an actress and what you want to accomplish as a musician?
Luckily, my acting has been going strong. My music has been stopping and starting. But in 2012, I'm going to work on making my singing just as prominent as my acting. I'm not going to put acting on the backburner, but my music is definitely important to me this year.