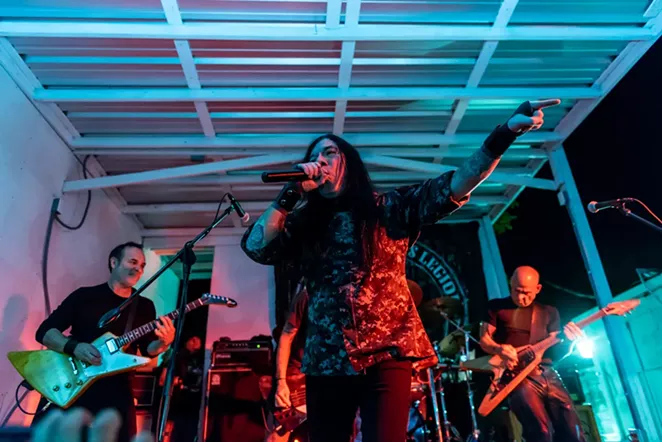 Jaime Monzon
Art Villarreal, James Rivera and Robert "Bobdog" Catlin (left to right) perform with the South Texas Legion supergroup at TexPop's Metal Mayhem show.
The metal supergroup assembled to play at TexPop's "Metal Mayhem" exhibit this spring is sharpening up its wrist spikes to perform again. A virtual Who's Who of musicians who helped make S.A. the
"Heavy Metal Capital of the World"
during the '80s, STL will play an extended set drawn from its members' original bands.
And if you were alive back then (or just love to collect vintage metal vinyl), the names of those outfits should send Hell's bells a-ringin' — S.A. Slayer, Helstar, Karion, Militia, Juggernaut, Fate's Warning and Dangerous Toys. Word is other headbangers of yore may sit in, so get those cameras (and bullet belts) ready.
$15, Wed Nov. 21, 8pm, Fitzgerald's Bar & Live Music Venue, 437 McCarty, Ste. 101, (210) 607-7007, fitzrockssa.com.

Get our top picks for the best events in San Antonio every Thursday morning. Sign up for our Events Newsletter.