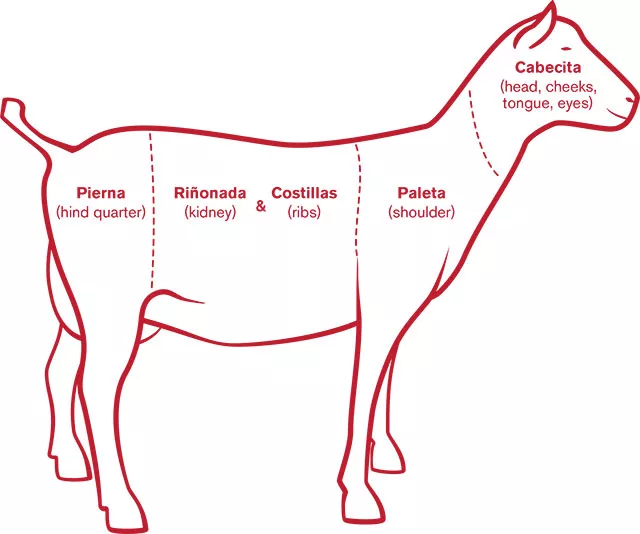 Joe Doria knows cabrito. The market manager at Bolner's Meat Market for the last 14 years, Doria's been in the goat game since the age for nine, still raises kids at home and doesn't hold back when asked about cabrito as a trend.
"It's not. It's been feeding families for years," Doria said.
There's quite a bit of wiggle room when it comes to what exactly constitutes cabrito, starting with size. At Bolner's, cabritos are sold in three categories: small (10 to 12 pounds), medium (12 to 15 pounds) and large (15 to 20 pounds), but Doria stresses size preference varies by region. For instance, someone preparing cabrito in the Valley will want a small, tender animal, while "Hill Country boys" might want a larger animal, according to Doria.
Sizes will also vary by breed. The smaller Spanish goat has been phased out and crossed with the Boer goat, a popular show breed that's generally larger.
How the kid is raised and fed also plays a part in how some folks choose their animal. A full set of teeth could be a turn off for some folks, while others prefer the kid to still be "suckin' on their mama," as Doria put it. Although tethering a kid to ensure it doesn't consume anything other than its mother's milk is uncommon, and mostly frowned upon, Doria hints at areas within San Antonio where the practice is still used.
Although he wouldn't disclose the number of cabritos sold on a weekly basis at Bolner's, Doria has seen an increase in the number of adult goats sold, a market he's seen develop as other ethnicities join SA's melting pot; Indian and Middle Eastern restaurateurs tend to go for larger animals, processed into cubes.
When it comes to processing cabrito, Doria and co. offer a six-way cut: a paleta, or shoulder; costillas and riñonada, or ribs and the area where the kidneys are found; and the pierna, or hindquarters. "My kids fight for the kidneys at home," Doria said.
And while he lists the plentiful ways cabrito can be served (guisado, al pastor, al horno, en salsa or machacado, to name a few), Doria's ingredient list for grilled cabrito isn't quite as long. "Salt, pepper, garlic—that's it."