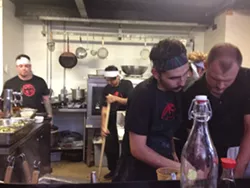 Dave Rizo and Mike Sohocki working on there strategy for the next few days. (Jessica Elizarraras)
According to a recent Facebook post, Kimura will be closing its doors until next Monday:
"Wow, we had no idea how popular this would be! We were just not prepared for the hundreds of people who have showed up in the last two days! We will need to shut down for a couple of days to get our S--- together. Please bare [sic] with us while we get the kinks worked out of this thing. We plan to reopen on Monday next week. Thank you for your patience and pardon our dust.
Chef Michael and Jenn" 
No, they're not shutting down, but the restaurant, which held a soft opening July 24 and officially opened its doors July 29, will be hitting the pause button to get a few things ironed out, including sourcing out Ramen noodles. Chef Sohocki will also be simplifying the lunch menu to offer ramen and gyoza. The business will take a small break during the day to regroup (they'll open 11 a.m.-2 p.m., 5:30-midnight), and they'll also shut down on Sundays to give the staff time to recuperate.
Sohocki, who says he's been up for more than 32 hours in the last 48, says he had no idea people were so excited for the restaurant.
"We had the entire block covered with people last night and this morning," Sohocki said. A far cry from the first days at Gwendolyn which had a slow and steady climb.
Pork belly, mushrooms, nori, soft-boiled egg and, of course, noodles. (Jessica Elizarraras)
This is a smart move in my opinion. Take a break, fix the kinks, manage product and then continue serving up solid food. We'll keep you posted on any schedule changes. If you have to get a ramen fix, visit The Monterey or The Granary in the meantime; both carry ramen as specials on certain days of the week.
Who knew SA was such a ramen town?