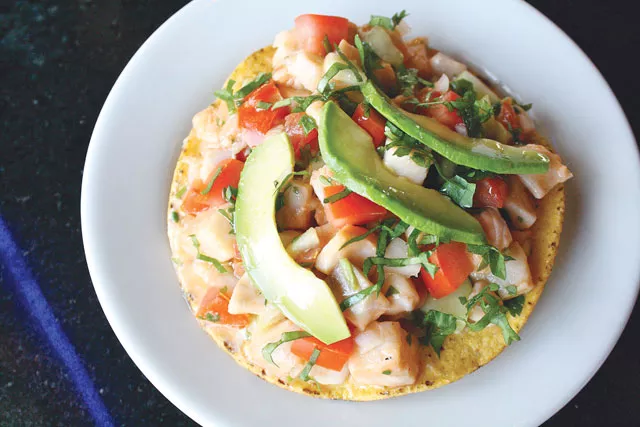 Veronica Luna
A fish ceviche tostada from Costa Pacifico
The influx of moneyed Mexican nationals now making San Antonio home was bound to have an influence on local restaurants — and not just those of the mainstream Mexican variety to judge by the likes of Italian-accented Barbaresco. We start here by assuming that the influence is potentially a good one, and cite as a case in point Marioli Meals To Gourmet in Stone Oak — if for no other reason than that it stays open until 3 a.m. on weekends.
Though Costa Pacifica's roots are in Mazatlan, the owners of the San Antonio outpost are from Monterrey. Escalades and Land Rovers, some with Monterrey plates, form a kind of phalanx at certain times of day, though the errant, Prius-driving gringo is certainly welcome. Most of us, however, may need a modest menu glossary, despite the fact that many dishes have ostensibly been translated into the local lingua franca. We can start with tostadas, which most folks, if they don't know already, will recognize as chalupas from the description.
A fish ceviche tostada, in fact, may have been the best thing I had in the course of two visits, in part due to an entirely unexpected schmear (no, not an arcane Mexican word) of mayo that had been applied to the toasted tortilla. It bolstered a very good ceviche with fresh ingredients and just enough limey bite. If for no other reason, go there, have this — maybe with a $3 house marg during the 4-7 p.m. happy hour.
I'm less eager to recommend the Taco Quartet I had at lunch in the modestly beachy environment. It had an air of almost relentless, tacos olvidados authenticity, though the serious charring suggested that they might actually have been forgotten on the grill for just a tad too long. The fish tacos al pastor, with bacon but no noticeable pineapple, were simply dry and cried out for the avocado salsa. (Along with salsas, you will be presented unadorned tostadas and a bowl with limes and a squeezer.) The tomato-based salsa roja is recommended with the shrimp taco, though this filling was at least a little moister. A chopped octopus taco with celery and some mild chile simply needed to be mas macho. And one of crab was a little mulchy (not even a real English term, for that matter) but did have enough flavor to override the corn tortilla's char.
Most locals who have paid attention to classic Mexican seafood places such as El 7 Mares and Camaron Pelado will be familiar with the overstuffed soups such as levanta muertos (raise the dead). But one caldo, oddly called Tiger's Milk (shrimp, fish, and octopus paired with white wine in a "ceviche broth"), I've never encountered, even in Mazatlan. Costa's renditions are relatively simple. The straightforward fish soup that comes with some lunch plates is perfectly acceptable, if a little uneventful; it tastes of catfish or tilapia and is improved by a squeeze of lime.
La Vela, the plate that produced the soup, is a combination of empanadas de camaron and "panga" enchilada de camaron. The empanadas are simple enough: a modest amount of tiny shrimp and other bits in a decently flaky, fried packet. Sauces are required. The panga is more of a problem — not the least of which involves the name. Nobody here could enlighten me, and much Googling suggests the term has as much to do with the boat used to catch shrimp as it does with the shrimp. By any translation, it's a filling of toughish, tiny shrimp in tomato sauce and a topping of cheesy mushroom plus poblano sauces. Mostly yawn. •
Costa Pacifica
434 N Loop 1604 W
(210) 491-1378
costapacificausa.com
The Skinny
Allegedly authentic, and admittedly ambitious, Mexican seafood looking better than it tastes.
Best Bets
Fish ceviche tostadas, simple fish soups
Hours
11am-10pm Mon-Tues, 11am-11pm Wed-Thurs, 11am-11:30pm Fri-Sat, 11am-9pm Sun
Prices
Dinner entrées: $9-$25