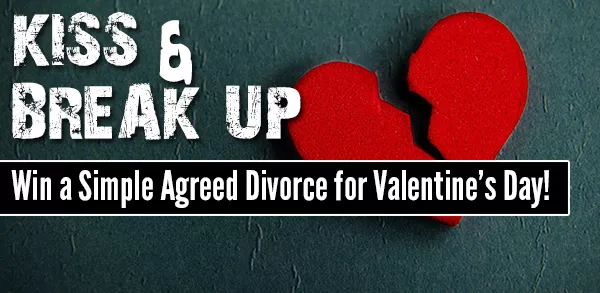 The 99.5 KISS Billy Madison Show is hosting a "Kiss and Break Up" divorce giveaway.
Happy Valentine's Day; let's get a divorce! Hah, if only it were so easy. Speaking from experience, the cost of a simple, amicable divorce can begin in the $600s just to cover court and lawyer fees. It can easily be pricier than dinner, flowers, and trip to Kay's.
But this week, the cupids at the 99.5 KISS Billy Madison Show are hosting a "Kiss and Break Up" divorce giveaway. They're soliciting listeners, unlucky-in-love, until noon February 13. Ten qualifying couples will be picked for the chance to win the Grand Prize: "legal services toward one simple agreed divorce from the Law Offices of Carroll and Hinojosa." The winning soon-to-be divorcées will be announced on the show, Valentine's Day. According to Keith Hasting, 99.5 KISS Program Director, the response has been wild.
"You wouldn't believe the amount of people we've heard from.  The entries have ranged from simple—"I hate my spouse but I love KISS"—to comical—"I just want out.  He doesn't have money and I don't want his (word referring to private anatomy deleted), I just want out!"
How romantic, right? It has me thinking about San Antonio's top scores as a city of romance; one chart factors in our low divorce rate. I wouldn't be surprised if that's partly due to cheap, broke-ass spouses. I stayed married for years because I didn't want to pony-up the cash for a divorce. Winning this grand prize would've been like winning a thousand bucks.